Fasten Off
If you have any comments regarding today's update please let me know. We would also love to have you share photos of your projects with us on Ravelry or Facebook. It is always very inspirational and exciting to see all the wonderful creations our readers are working on!
Wishing you all crochet success!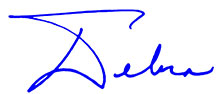 Debra Arch
Editor, Talking Crochet update

Since 1998, Debra Arch has had hundreds of crochet, knit, quilting, sewing, needle-felting and needlepoint designs published in magazines and hardcover books by Annie's and other publishers. She is the creator and instructor for Learn to Crocodile Stitch: 4 Easy Techniques and 101 Crochet Solutions & Innovations video classes on AnniesCraftStore.com and Annie's Creative Studio, and she has also authored 13 pattern books for Annie's. She loves to share her experience, tips and tricks to help people crochet faster and more efficiently. Check out her most recently published crochet and knit designs on Ravelry, and you are invited to follow Debra Arch Designs on Pinterest!