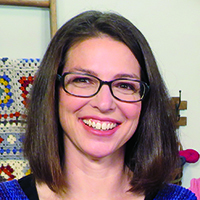 Note From the Editor
I think most of us crocheters look forward to fall. I know that itís when my fingers get super antsy to start whipping up projects. I just want to dig into that yarn stash and start creating feverishly for the cool months. I hope that you are the same because we have some great projects in this issue designed for doing just that! There are several projects that could easily use scraps from your stash as well as a few that might allow you to try out a yarn you have never used before.
In the Kids Play section, there are some fun projects to help kids, and adults, get ready for the Halloween season. Whimsical designs come together with sparkling yarns for magical costumes, while other designs feed kidsí desires to dress up and play as fun, wild creatures.
The Entwining Cables chapter is set up to help you learn how to work cables as well as to challenge those who are already experienced with them. We have provided a few starter projects with photo tutorials and even a video tutorial to help you master these sometimes mystical cable stitches. Then, once you have things in hand and are ready to advance, there are more complex patterns to challenge you. Be sure to try out Bendy Carterís two-row, two-color technique or Sandy Walkerís Tunisian cables. Youíll feel like a true master once you get them off your hook!
The thread designs in this issue do not disappoint either. Featuring pretty fall colors and unique, fun stitches, they will make lovely additions to your home. The second to last installment of our thread series, Resplendent Squares, can be found in the Just Threads section. Have you been keeping up? Remember, in each issue of the magazine this year, you have received instructions for two squares, and then in the next issue, December 2022, we will give you the finishing instructions. In addition, this month we show you yet another way to assemble your squares -- this time as a centerpiece in a slightly different shape. Be sure to share your squares with us on social media using the hashtag #resplendentsquares!

Britt Schmiesing,
Crochet World
managing editor
Britt Schmiesing is a knit and crochet designer as well as an artist. She taught herself to knit in 2005 to relieve stress from the rigors of being a junior and high school Spanish teacher.
A few years ago, Britt taught herself to crochet to assist with her new job at Annieís Publishing. Her designs have appeared in Creative Knitting, Crochet! and Crochet World magazines and Seasons 10 and 12 of the TV show Knit and Crochet Now! She loves designing garments and wearables.
See more of her work on Instagram: @britt.schmiesing.