Pineapple Passion by Karen Whooley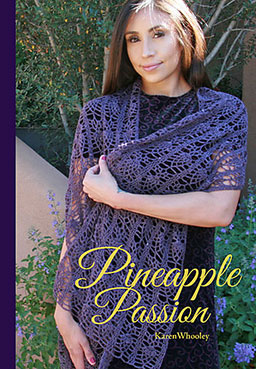 Anne Podlesak © 2019 Karen Whooley
Karen Whooley is an outstanding designer and international teacher, and a true inspiration to so many of us who work with her. With over 20 years of experience, she knows our craft inside and out. She sets very high standards for her own work and it really shows. Each book and every design have her heart and soul poured into them. She loves her work and her fans, and she does her best to honor and bring joy to us. Her newest book is a continuation of all that she embodies in her motto: Simple. Elegant. Adventurous. Crochet. Those four words are her mission statement for her career, and I'd say she has nailed it!
Pineapples are a favorite crochet pattern for a reason. No other craft can replicate the delicate beauty of the lacy crochet stitch. Karen's book showcases the pineapple in all its glory! I love that, once again, she includes easy-to-follow diagrams along with the written instructions for each pattern. It's a fantastic way to clear up any stitch struggles that might arise. I personally love to use both and am thrilled to see them so well done.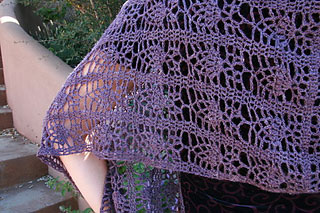 Anne Podlesak © 2019 Karen Whooley
I'd like to start by sharing her cover wrap, Pineapple Express. Karen was very clever with how she designed this wrap! Normally, pineapples leave a pretty curve at the bottom, so, on a wrap one side (the starting chain) would be straight and the other side would have the curve. Karen provides a brilliant solution so that both ends have the curve! It's thinking outside the norm like that which makes Karen's designs stand out from the pack. It's also what keeps all of us coming back. She finds creatively unique solutions where many of us might just give up.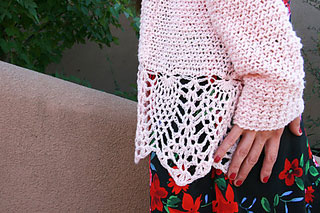 Anne Podlesak © 2019 Karen Whooley
The Pineapple Cardi is a super-soft, merino/silk-blend cardigan with unbelievable drape! If you want full-on luxury, this is the cardigan for you. Karen's instructions are very clear, and the charts really couldn't make the edging any easier. If you've been waiting for the perfect cardigan, this is it! The fiber content also allows for a three-season addition to your wardrobe. That makes it extra appealing!
Anne Podlesak © 2019 Karen Whooley
Warm weather is here (at least it is in Colorado), and it appears that we are going to have a hot summer if spring is any indication. The Pineapple Elegance skirt will be a delightful addition to your summer wardrobe. It is breezy boho chic at its best! You could easily adjust the length for your own personal style and height. Being made from the same merino/silk yarn as the Pineapple Cardi ensures that it has glorious drape as well.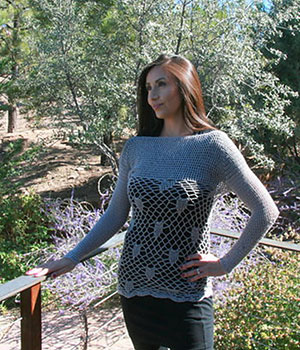 Anne Podlesak © 2019 Karen Whooley
If you are looking for a pattern that is fast and elegant then Karen's Pineapple Chemise is just the ticket! It's the perfect cover for your favorite tank top. Contrasting colors between the tank top and Pineapple Chemise will make your stitches really pop! It's airy enough to wear on warmer days and yet would be a classy wardrobe addition for work or special events.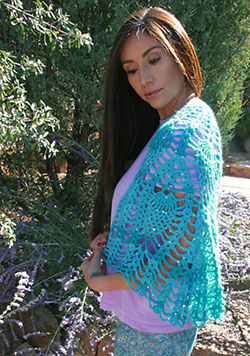 Anne Podlesak © 2019 Karen Whooley
Pineapple Dreams had me with all the shimmering sparkle! It's delicate and glamorous at the same time. Pineapple Dreams is an easy accessory to wear on more formal occasions with a dress or skirt, or you could wear it more casually with jeans and a nice top. However you wear it, you can't go wrong!
I hope you've enjoyed our quick peek at Karen Whooley's new book! Pop on over and grab your copy today!