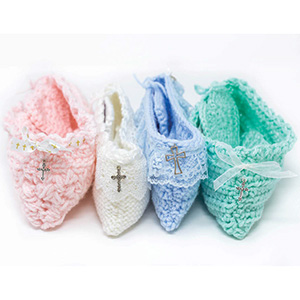 In this column, Crochet World often features articles about unique organizations that benefit from crochet and knit work donated by volunteers. There have been articles and information about support for members of the military, animals, an anti-bullying program, children's welfare and safety, and those dealing with medical or mental crises, to name a few.
Longtime readers will recall a very unique organization, Bridget's Cradles, that helps grieving parents with the loss of a baby in the second trimester of pregnancy. This nonprofit organization was cofounded by Ashley Opliger after she and her husband, Matt, suffered from the loss of their daughter, Bridget, in October 2014. Ashley's mother, Teresa Golik, had knitted a small, special cradle in which they could hold and bury their 13-ounce daughter. From that beginning, with the support of family and friends, Ashley had a new purpose in life: to start a Christian faith-based ministry to comfort other parents suffering from the same loss.
Originally, the focus was on donating crocheted and knitted cradles to hospitals. The first donation of cradles knitted by "Grammy" Teresa was to Wesley Medical Center in Wichita, Kan., where Bridget was born. Less than a year later, when Bridget's Cradles became a 501c3 nonprofit organization, Ashley, the Executive Director, resigned from her career as a speech pathologist to run it on a full-time basis. Word spread and hospitals across the United States began to request cradles.
Read the full article in our October 2022 issue!