Crochet News,
Views & How-tos
Crochet Projects for Cool Cats & Top Dogs
If you need an option to help keep track of your dog when he is hiking off-leash with you in unfamiliar woods or chasing a ball in the park, the Small Pooch Pullover Crochet Pattern is a good choice. Made with just one skein each of a solid and variegated worsted-weight yarn, this pattern, which fits a small (2- to 5-pound) dog, is a great stash-busting project. When your beloved pet is wearing this pullover that has been stitched with super-bright-color yarns, it will be highly visible in a dog park and easy to spot by pedestrians, bikers and motorists when crossing a busy street.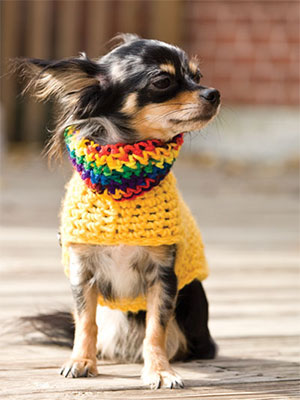 When your cats and small dogs want to stretch out for a snooze, do they jump up to join you on the family sofa? You can avoid this crowded situation by crocheting the clever designs in the Kitty Couches Crochet Pattern. This value-packed collection includes instructions to make a 21 x 11 x 14-inch blue couch with square pillows, a 10 1/2 x 16-inch-diameter pink chair with round pillows, and an 18 1/2 x 12 x 12-inch green sofa with a tiny afghan to drape over the top!
With such charming options, it will be difficult to decide which one of these whimsical items to make first! We think crocheting a couch or chair for each of your cats and dogs is a win-win situation, because YOU win back the lounging rights to the family sofa!
If you're not sure whether you have all the skills needed to crochet a kitty couch, be sure to visit Annie's website later this summer because Annie's will be offering a new class which features how to crochet these adorable couches. Finally, if you don't own a pet, we have an outside-the-box reason to make one of these super-cute couches. If you have a daughter or granddaughter who has 18-inch dolls, we're sure she would love a bright purple or pink crocheted couch for her dollies!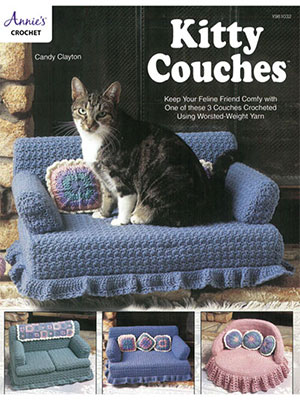 Dogs and cats are comforted when they can go to a cozy area during a loud thunderstorm or when it's time to curl up for the night. For an easy-to-stitch pet bed that will look cute in any room of the house, we recommend the ANNIE'S SIGNATURE DESIGNS: Cat & Dog Beds Crochet Pattern. This darling pattern uses basic single and double crochet stitches to create a 20-inch-wide x 30-inch-long bed in both dog and cat versions. These designs are much fancier than the ho-hum dog and cat beds available in stores and will quickly become your pet's favorite place to relax!