Crochet News,
Views & How-tos
Crocheting Much-Appreciated Gifts
If you love to keep your hands busy by constantly crocheting, why not focus on making helpful projects and then give them as gifts that can make a significant improvement in another person's daily life? Whether a large afghan or a small chemo cap, a thoughtfully crocheted gift is always needed and appreciated! We encourage you to make some of the following crochet options for people you know or as donations for people you don't know. Either way, your kindness will always be remembered and never forgotten.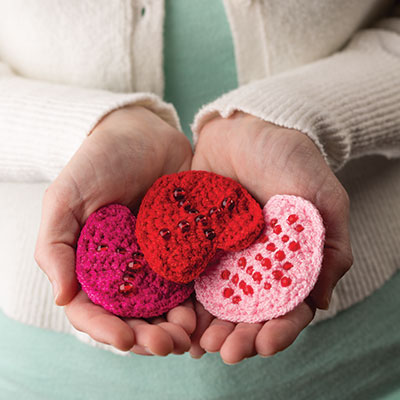 Whether used on a permanent or temporary basis, walkers are valuable tools that allow people to be independent and ambulatory while living in veterans homes, nursing facilities or at home. This very popular Walker Caddy fastens securely over the front bar of the walker with magnetic clasps and has a double tier of pockets which can be filled with essential items such as a cell phone, TV remote, tissues, pen and paper, etc. It will be a much-appreciated gift that allows a person the freedom to roam around and still have everything they need close at hand!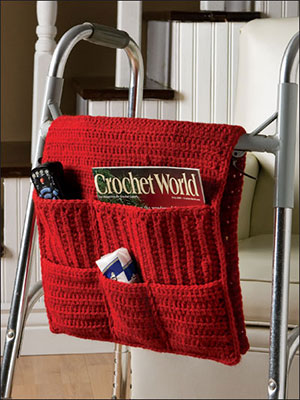 Another person in need of a compassionate gift is someone who uses a wheelchair. They would absolutely treasure a beautiful lapghan or shawl to add soothing warmth around their shoulders or across their lap! Inside the value-packed Caring Crochet pattern book are 18 patterns, such as lapghans, shawls, booties, a cocoon set, caps, blankets, slippers and more. Each project was designed to meet the needs of preemies, nursing home residents, patients with Alzheimer's disease or cancer, and others who would cherish a comforting handmade gift.
Do you want to crochet and donate meaningful gifts, but do not personally know of someone who is in need? Then, we suggest you contact a hospital, local charity, homeless shelter, veterans home or nursing-care facility. Ask them what they currently need regarding donations and if they recommend any specific yarns. For instance, yarns should all be machine wash-and-dry fibers to ensure they can be easily cleaned, and hats for babies or chemo patients must be made using very soft yarns.
An excellent option to learn about crocheting for charities is to subscribe to Annie's Caring Crochet Kit Club. Each monthly kit provides all the instructions, patterns and yarn for a project that you can "Crochet for a Cause" and spotlights a specific reputable cause or organization through which you can pass your handmade gift along to a person in need. The kits consist of projects such as chemo caps for cancer patients, blankets for seriously ill or traumatized children, and many other projects for organizations that are making a real difference in people's lives.
We would also like to inform Crochet World subscribers who want to learn how crocheting can make a difference one stitch at a time about an excellent article regarding the Hat Not Hate cause and its two accompanying hat patterns. You can read all about it in the August 2020 issue of Crochet World, which can be accessed digitally after June 2 and in print on June 23.
And now, as promised, please enjoy the Prayerful Hearts pattern! We hope this pattern inspires you to crochet these lovely mementos and insert them inside get-well cards for those who need a little hope and loving comfort! The recipients can tuck these heart-shaped keepsakes into their pockets or hold them in their hands to serve as visual and physical reminders that their family's thoughts and prayers are constantly with them. We also hope you will consider making these Prayerful Hearts for healthcare workers whose dedication and service warrant our loving support and encouragement.