Crochet News,
Views & How-tos
Exploring Crochet Projects For Summer Adventures
During the summer months, many people turn into explorers and become eager to get out of the house. Often, this wanderlust takes us to places that involve shopping! We hunt through farmers markets, browse summer craft fairs and seek out yard sales, hoping to unearth that special one-of-a-kind treasure to complement our home decor or add to a personal collection. With eight trendy styles included in this Market Bags To Crochet pattern book, you can have fun chasing down a good deal and look good too!
These bags vary in size and are crocheted using different techniques and stitches, which makes this pattern book an excellent opportunity to learn new stitch combinations and increase your crochet repertoire. All the bags are made with machine-washable cotton yarn, so they are easy to keep clean. With so many different stylish bag options, why not make several and store them in your car for easy access when you encounter an unexpected pop-up garage sale?
| | |
| --- | --- |
| | |
Many times, our shopping trips involve going to a grocery store. This can be challenging if you must take a small child with you. Many people worry about their child touching the handle and sides of the grocery cart while they shop. We think you will find this Baby's Shopping-Cart Cozy pattern to be a very useful work-around for shopping trips. The cozy extends over the handle and sides of most large shopping carts and helps to provide a separation between your child's hands and any undesirable surfaces close to the child. This easy-to-stitch cozy is made with worsted-weight yarn and is sure to bring you some peace of mind when you must grocery-shop with a young child!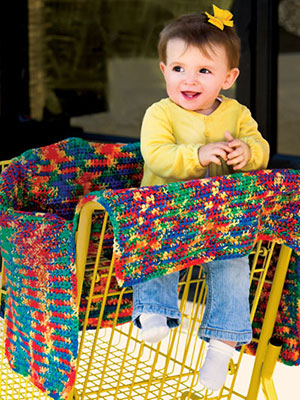 We all love impromptu backyard picnics to get the kids away from the computer screen and outside on a nice summer day. Even if the sandwich is just a PB&J, it always tastes better when enjoyed in the fresh air under a shade tree! Yet, even on the calmest of days, a random breeze can blow across the picnic table or blanket and suddenly cause everyone to scramble after their napkins! You can remedy this by making several of the Waves & Sand Place Mat to use during your next alfresco meal. The cute pail forms a pocket to keep utensils organized and napkins in place. We suggest that it is well worth the effort to make each child a place mat using their own personal favorite colors, so that, hopefully, they will be more excited about picking up after themselves after the meal!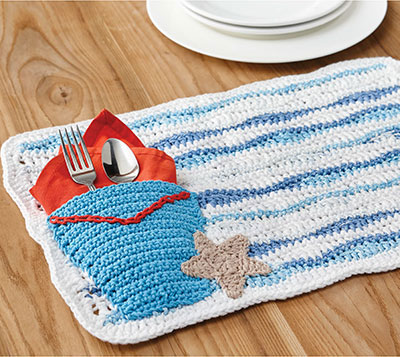 Another crochet project that is helpful to family members headed outside is a cap to wear with their sunglasses for protection while having fun in the sun. Everyone loves the cleverly crocheted visor on this cute Crazy Easy Textured Newsboy Cap. Since this one pattern includes many sizes from newborn through adult, it is a terrific value and the perfect pattern to use when you want to stitch a cap that will fit every member of the family.
How about making everyone's cap in the same color to designate the family as a group when on vacation or at a family reunion? It would certainly be a big help when trying to figure out which children go with which set of parents for the family photos!