Crochet News,
Views & How-tos
Easter Projects for "Everybunny" in Your Life!
People of all ages love this set of Easter Bunny & Babies! These little bunnies have adorable embroidered faces, and the babies are just the right size to be held in the sweet little hands of a child. But don't forget older relatives or friends living in nursing homes or assisted living. They also love to decorate their rooms for all the holidays! The Easter Bunny & Babies set can be nestled inside a small basket filled with Easter grass to decorate a side table in their room throughout spring, and then it is easily stored in a small space until the next year.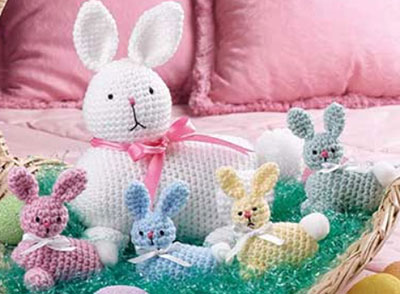 When children are small, it can be challenging to find quiet playtime games that do not involve screen time or using batteries! The Tic-Tac-Toe Travel Game would make a fun Easter basket gift that you can enjoy playing with your child or grandchild. Why not make sets using hot pink and purple for your little princesses or pair lime green with blue for all the royal princes in your life? The game board is cleverly designed to form a travel pouch, making it super easy to take on long car trips or when camping!
For a special Easter treat that does not contain calories, why not make this Earring Elegance design for your sister, mom or friend? Change the colors of the metallic embroidery floss and beads to match their favorite colors and hide the earrings inside a large plastic Easter egg. Then watch their faces light up when they open the egg to reveal a gorgeous pair of earrings that can be worn throughout the year!