Crochet News,
Views & How-tos
One-Skein Projects!
Just like many of you, I have many single skeins of yarn just waiting for the perfect project to come along. Unfortunately, one of those very expensive skeins has really started to fade, which has made my hunt for a project for it even more urgent. I am also considering over-dyeing it, but that will be my last resort. As you can tell, some of my yarn has been waiting for years for me to figure out what to do with it. My hope is that today we can all find several projects to help thin our single-skein stashes.
When I buy single skeins they are almost always multicolored -- and I don't mean evenly striped either. The colors are uneven and most often very random. That makes it hard to pick a project. Pooling can quickly become an ugly issue, and a pretty texture can easily become lost. The single skeins of yarn I choose are usually hand-dyed and bold-colored silk, Tencel or bamboo, so most projects need to be items that don't need to be washed too often. I've learned the hard way that hand-dyed yarns often bleed. Now, I always wash them with vinegar added to the water to help set the color.
So, what are the best projects for multicolored yarns? Projects that are lacy and that either increase or decrease, or both! Increasing and decreasing break up any pooling that might occur. This concept is amazingly simple, yet it took me years to learn it!
Unless you want to combine your various single skeins to make a larger project, you'll need to stick with accessories. These are actually my favorite types of projects! I love cowls (as many of you already know!), but there are so many other projects to be made! Plus, if you only have a few days off right now you can have the satisfaction of starting and finishing a pattern before heading back to work or school.
Shawls are a wonderful way to use all those lovely gradient yarns that are coming out. Usually, a complete shawl can be made from one ball of yarn! Tahitian Nights Shawl is the perfect one-skein project! Its top-down construction allows you to simply stop when you run out of yarn. Depending on your skein size, you can end up with a mini scarf-shawl or a full-size shawl. I love flexible designs like that! The Tahitian Nights Shaw was previously published in Crochet! magazine's summer 2019 issue, but if you don't own that one you can easily purchase the pattern at the link above.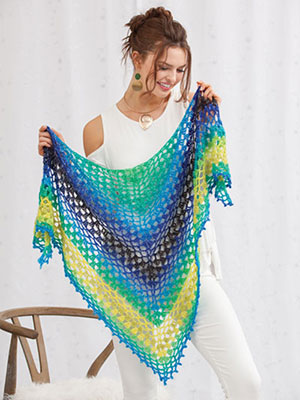 Believe it or not, this lovely set was created with just one skein of yarn! The Wintergreen Hat and Infinity Scarf introduces the new staggered pebbles stitch. I had never heard of that stitch until today, so you know I will start swatching when I'm done writing! I love the look and the texture of this set. I'm super-curious as to how the stitch would look in a thinner, summer-weight yarn. I love patterns for accessories that I can get more than one season from!
Nothing makes shopping more enjoyable than having a roomy and pretty Farmers Market Bag to place all your purchases in! You could make several bags, each one in a new color from your stash of single skeins! What a fun way to make a chore a bit more pleasant. The Farmers Market Bag pattern was previously published in Crochet! magazine's spring 2019 issue, so if you subscribe to Crochet! you probably already own the pattern! If not, you can find it at AnniesCraftStore.com.
This Little Luxury Scarf is right on trend! It's classy and adds a really nice pop of color to your outfit. The sweet little tassels just put it right over the top! This scarf is perfect for all the smaller size skeins you've been collecting. If you already own 1-2-3 Skein Crochet you have this pattern in your collection; if not, you can purchase this special-interest publication of Crochet! magazine or the individual pattern at AnniesCraftStore.com!
I hope these one-skein ideas help you start using those special skeins soon! Life's too short to keep them tucked away for some future day!