Crochet News,
Views & How-tos
Gift-Giving Ideas!
It's hard to believe that it's time to talk about Christmas already, but you really do need to start crocheting if you plan on giving handcrafted gifts this year. I've put together a list of ideas for all ages to help you get started -- or to keep you inspired if you have already begun!
Our first gifts are for the little ones in your world. My husband and I are "Mimi" and "Papa" for the first time this year as our precious grandson was born on July 15. This will be an extra-special holiday season for us, and you know I am making as many things as I can for our sweet little guy!
Colorado gets cold and these Slouchy Animal Hats are darling and fun to make!
They also pair really well with these cute little Sampler Mitts to Mittens! These are easy designs that don't use a lot of yarn. If you have several little ones to make gifts for, mittens and hats are ideal projects. They are also very portable, which makes it much easier to get some car crocheting done!
There are six different toy stacks you can make from the Baby Stacks pattern booklet. Isn't that an outstanding deal? Each stack is a fun puzzle for a toddler to solve, and the more colorful the stack, the better! These handcrafted cuties are much nicer than the plastic ones my boys had. They will be handed down for generations to come.
Isn't this Baby Giraffe in C2C Afghan adorable? Who can resist a baby giraffe? This would be a long-loved afghan for sure! If you are new to corner-to-corner crochet this is a great introduction to the method as well.
With eight different backpacks to pick from, you can't go wrong with the Animal Backpacks booklet! Not only are they practical for hauling books around, these backpacks are perfect for keeping favorite toys or blankets tucked away! It might even make picking up toys more enjoyable if your little ones have their own customized little pack to stash them into.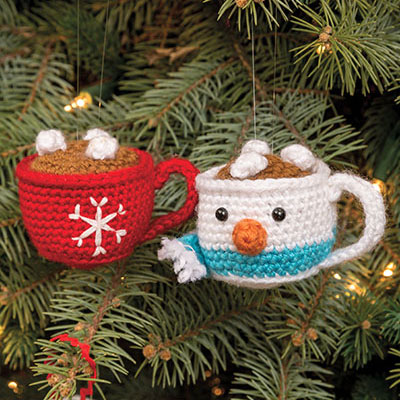 Featured in Annie's Christmas special issue 2019, these mug ornaments are so enchanting! They are perfect to give to older kids or to use as gift toppers. Small items like these can and do mean so much! I have a boxful of similar knitted, sewn and crocheted ornaments and gift toppers that family members have made through the years, and they are our very favorite memories of all. Not every gift has to be an afghan to be meaningful. The fact that your two hands made it are what makes it special! This issue also has many other fantastic gift ideas that are quick to whip up, working in every craft from quilting to crochet! There are over 65 designs in all! It's a beautiful issue packed with practical yet really creative ideas.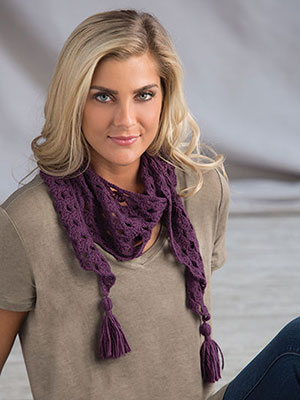 I love making, wearing and giving accessories! The Little Luxury Scarf is so my style! I'll have to make one for myself after I make one as a gift. These smaller scarfs work up quickly so you have plenty of time to make as many as you like before Christmas! They are wonderful stash busters too!
The Braided Cable Cowl is a somewhat intricate project but also a wonderful learning opportunity! It is the perfect design to learn a new technique on -- and you won't be overwhelmed by the size. It's a classy and classic cowl that will be worn for years to come. Don't be surprised if you get requests from others once they see this beauty!
These Unisex Slippers bring back wonderful memories for me. When I was growing up, my great aunt would always make slippers for everyone every year. They were a gift we all looked forward to receiving. The winters were long and cold, and her slippers were much appreciated by the whole family. These Unisex Slippers are an updated version of what my great aunt used to make and are very stylish. They could easily become a family tradition in your home too!
And last but not least is this beautiful Heirloom Nativity set. It features 16 figures from the birth of Jesus. I agree with the comments on the bottom of the page -- I would embroider faces on the figures myself. It would be wonderful to have a set that can be handled without fear of breaking. Kids can get an up-close look at the scene and participate without any issues with "don't touch." What a wonderful set to pass down!
I hope my ideas have helped get you in the mood for some Christmas crocheting and gift-giving! Please share what you are working on with us on our Facebook page!