Crochet News,
Views & How-tos
A Few of My Favorite Things!
We are so blessed to live in an age when so much information is available. You can find pretty much anything you want to learn about simply with the tap of your finger. I love that I can read reviews and am amazed at the things that other people pick up on that I might not have even noticed.
My husband happens to be a super detailed-oriented man who sees things that I would miss out on if he wasn't around. Like the day we drove to town and he spotted a humongous bald eagle's nest. Frankly, I was waiting for a pterodactyl to land -- the nest was that big and that ugly. I swear those eagle parents used anything and everything to build that nest! There were huge white wires hanging from it! A few weeks later we drove by again and saw sweet little heads poking up waiting for food. The best of life is all in the details.
Since details are such a big part of what makes life so interesting and enjoyable, I'd like to share a few of my favorite fiber- and crochet-related people. These are people who make me stop and notice things before the moment has slipped by. I am a very visual person, as are many of you, but I tend to see big pictures and miss the details. Today we are going to slow things down and just enjoy the small stuff.
I've been in this industry for over 11 years, and in that time, I've made many lifelong friends whom I adore. I admit that my favorite items are from these people. Maybe it's because I understand the love, sweat and tears that have gone into their art. You really can't separate the design from the person -- whatever is made comes from whatever you carry inside.
The first favorite thing I would like to share with you is Bonnie Barker's YouTube channel. She's a wonderful teacher, especially if you are a beginner. I'll let you in on a very cool thing about Bonnie: She sings and plays guitar when she teaches, and she is fantastic! If you ever get a chance to take her class in person, please do. I sat outside her class last summer (I was unable to take the class) for a few minutes and the laughter and songs were so much fun! I hated to leave when my ride showed up, it was that entertaining.
Jennifer Ryan's blog, Celtic Knot Crochet, is a favorite too! We already know she's an outstanding designer, but did you know she loves to crochet covers for rocks and hide them for others to find and enjoy? She calls it "Rock Fun." I see it as an act of joy for her and the one blessed enough to discover one! Win/win! What a clever way to bring beauty to our world, one rock at a time!
Ah, and who could forget my friend Karen McKenna? Her website is I Hook Design. She's funny, quick-witted and full of very creative ideas! She has served the CGOA for many years and in many positions. She loves to give back and is a talented marketer. Her fun secret? She loves to travel and thrift-shop! She has been places I can only dream of. She was the one who convinced me that a trip to Nice, France, would be perfect for my husband and me, and boy, was she ever right! Karen is so down to earth that you would have no idea of the wisdom and knowledge she carries. One of my very favorite thrift finds Karen shared was this old pipe stand.
My grandpa had one back in the day. Her fun find brought back some really sweet memories for me.
Sweet Susan Lowman has always impressed me with how her mind works. She comes up with solutions to problems I would never think of. See this mess?
Her class Crochet ER: Fixing Damage & Mistakes saved a wrap design for me! I was able to cut out the damaged areas and fix it just like she taught in her video. Susan has ideas that are truly amazing, and I really enjoy the ease with which she teaches. Her blog, The Crochet Architect, has fun stuff about her life too! She even has photos from her travels to China! She really is a fascinating and lovely person.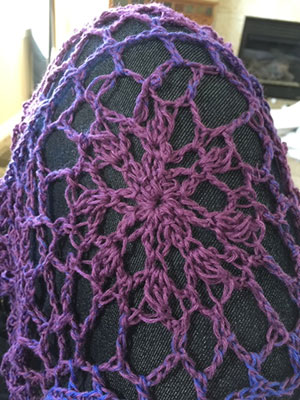 Of course, Karen Whooley also makes the list! I think I've covered more of her books than any other author! Her knowledge of Italian lace is mind-blowing! I first noticed Karen 20 years ago with her Learn to Delta Lace Crochet booklet, and here we are, all these years later, with design after design stacking up. Lace is Karen's love, and I really enjoy listening to her talk about it. Karen's crochet is her family legacy and a true calling. She is doing exactly what she was created to do. You hear it in her voice when she talks about her next book coming out, or the newest design. Very rarely do you come across someone who knows 100 percent what they are created to do. When you meet them, it's like finding a pot of gold. I love to sit, listen and learn. They have lots of beautiful details to share!
My final favorite thing has been watching Ellen Gormley get her daughter ready to leave for college. Fundraising, afghans, shawls, hats and all kinds of fun projects are going on over at her YouTube channel. And if you are looking for a book to inspire you to use your gorgeous single skeins that are waiting for something special, Ellen's One Skein Crochet: De-Stash Beautifully, One Skein at a Time is just perfect for them! My secret confession: I adore Ellen's pet videos! Hobi is a hoot! Theo and Minnie are fun too, but I have cats myself. With Hobi I get the laughter of a puppy without the actual craziness that comes with a puppy!
I hope that today you will get the chance to slow down and find the beautiful details in your own life. Even if it's only for a few short moments, those nuggets of gold add up to a pretty amazing lifetime!