Crochet News,
Views & How-tos
Organizing Your Crochet!
If you've been a Talking Crochet reader for long, you know I create best when my studio is less than perfect (a huge understatement!). I'm pretty picky about the rest of the house. My sons even teased me about making them clean the insulation before company came to visit when they were younger. It's not true, but it's not too far off either. Which is why a messy studio is so out of character for me. I've finally made peace with it and want to share a few helpful tips to keep the yarn and supplies from overtaking the rest of the house.
First off, I want to say that having the freedom to create without worrying about putting it all back just as soon as I finish is a huge blessing. I have health issues that pretty much guarantee that by the time I have the yarn and idea firmly decided, I'm in too much pain to put everything away. I know many of you suffer with the same kinds of health issues, and I hope my solutions help you too.
One of my favorite tricks is using vases as hook and needle holders. I have several that help me keep my knitting needles and crochet hooks off the floor and easy to find. About once a year I do have to go through my WIPs and gather up my hooks and needles because I eventually run out. I leave a note with the project stating what hook or needle I've used so I don't have to try and figure it out later. I also regularly add hooks to my gift list for any occasion. There is no such thing as too many hooks!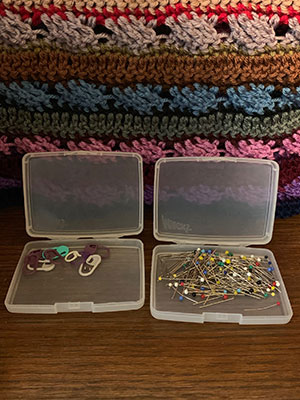 Next, I buy lots and lots of rustproof pins. Blocking my work is one of the harder things I do physically, so having plenty of pins handy to keep me from getting up and down a lot is critical for me. I swim regularly and use earplugs that come in really cool semi-clear plastic boxes. The handy containers that the plugs come in are just perfect for so many crochet notions, especially pins! I love that I can see exactly what I have stored in them at a quick glance. I keep several tucked around my studio so there are always some within reach. Pins are also a staple on my gift list!
Oh, how I love these bags!
I travel with my backpack as my project bag -- you just can't beat all the pockets!
But for at-home use, these big, beautiful Laurel Burch bags are my absolute favorites. They can hold an in-progress afghan and at least 12 full-size skeins, as well as all my tools and goodies. I love that I can leave these bags in any room (zipped closed, of course) without the fear of Ben the cat getting into my yarn. He loves yarn almost as much as I do!
Laurel Burch bags make a pretty awesome statement piece no matter what room you use them in. There's no embarrassment when unexpected visitors stop in!
Speaking of Laurel Burch bags, I have several of her smaller pouches to carry my notions in. I try to keep two smaller ones ready to go at all times. Sometimes life happens and you need an easy, mindless project to help you get through it. Being prepared makes that so much easier! My mindless go-to projects are dishcloths. You can never have too many!
My studio isn't one you'd find on Instagram, I don't have pretty white pegboards with brightly colored items hanging on them. What I do have are clear tubs of yarn that are arranged by color.
I've tried different kinds of sorting -- size, brand, fiber content, weight, etc. -- and have found that color works best for me. It makes it much easier to pull out six different tubs and pick six colors out of those tubs that really work in harmony. It's a fantastic way to help you decide what colors to use in big projects such as afghans.
I bet you can guess my next must-have: a color wheel! Yes, I actually practice what I preach. I can't tell you how many times the wheel has given me color combos I never would have thought of. Keeping one near my yarn helps make my decisions even easier. The less time I spend hunting for it, the more time I have to actually crochet! Tacking one to the wall ensures you will always have one handy. I also keep one on my phone. You never know when you might need one!
Lastly, I keep books -- lots and lots of books. My best organization tip for books? Keep them out where they can and will inspire you! I have several bookcases full of beautiful books brimming with designs that I will never make. That doesn't mean they are wasted; it means that I enjoy the designs for the art they are. When I am struggling to come up with a new idea, I love to go into my studio, shut the door, and pore over these treasures. I like to swap out the books that are laid out on my tables every so often so that new inspiration can grow.
Now that I've shared a few of my favorite organization and inspiration tips, I'd like to hear from you. How do you keep your crochet organized? I would love to share any ideas you might have! Please send your tips here.