Crochet News,
Views & How-tos
Treat Yourself!
Now that the holidays are over, it's time to treat yourself! I know most of you worked tirelessly to make beautiful presents for others during the gift-giving season -- now it's time to make something fun for yourself, to learn a new technique, to take a class or even to join us on Annie's Creative Studio! Let's start the new year by learning and making something for ourselves!
These Turkish Crochet Bracelets & Watchband patterns let you make darling accessories that are uniquely yours! The instant download comes with patterns for a triple-wrap bracelet, a slip-stitch bracelet, a half-double crochet bracelet and a watchband! You get a lot of bang for your buck with these designs! You can easily make them in all kinds of different colors to match any outfit simply by swapping out the bead colors and yarn choices. I love wearing beaded crochet jewelry. They are one-of-a-kind pieces that always receive lots of very nice compliments. The instructions are written and even include step-by-step photos on how to do this interesting technique!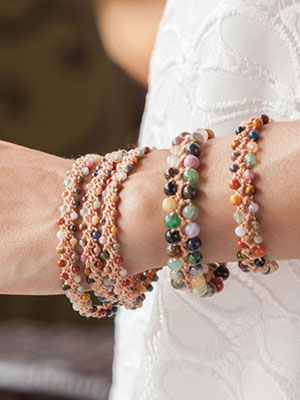 Next up on my must-make list is pretty much everything in Coastal Crochet by Karen Whooley. If you caught my review in an earlier Talking Crochet update you understand why I'm suggesting it as such a treat today. Karen's designs are always timeless, elegant and classy. There are scarves, shawls, tops and even a hat -- any project you make from Karen's book will be beautiful. It's that good! The patterns are well written and easy to understand, and she also included charts! I love using both when I crochet -- I tend to transpose words and numbers, and having both is such a blessing. This is a book you will use over and over again!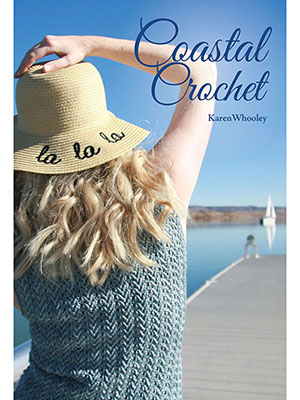 Bonnie Barker's Celtic Cross Cable Throw really did make me swoon at first sight! I am enamored with texture, and this pattern doesn't disappoint! Bonnie really knows how to design stunning crochet cables like no one else I know. She also explains how to work cables in a way that is clear and easy to understand. Using the bulky yarn suggested makes this the perfect winter project too! You can snuggle under it as you stitch the night away.
My personal favorite projects are scarfs or shawls that I can wear as cowls. They are the ideal year-round accessories! Cozy Shawls & Scarves has seven delightful crochet patterns to keep you busy until spring arrives. Most are made with medium- to bulky-weight yarn and are lovely just as they are, but you could change the look dramatically by going with a thinner yarn and using the same hook size! You'll end up with a very pretty lightweight shawl just in time for spring! Don't be afraid to switch things up a bit once you've made the winter version.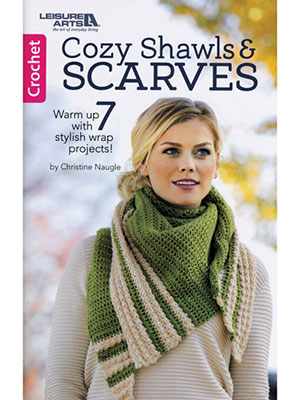 How would you like to finally make a really cute sweater for yourself that is so soft and pretty you'll hate to take it off? The Learn to Crochet the Oceano Circular Cardigan class taught by Lena Skvagerson is just the ticket! It's a confident-beginner class that is perfect for a crocheter making a first-time garment. Lena takes us round by round as we stitch this seamless cardigan. If you aren't a super-confident beginner before you begin, you will be when you finish. In the end you will also have showstopping addition to your wardrobe!
Does exploring interesting ways to use conventional and unconventional stitches that can make crochet look like knitting sound exciting to you? I know it sure piques my interest! The class Learn Knit-Look Crochet, taught by Jennifer Pionk, is a wonderful opportunity to learn this intriguing technique while making a Log Cabin-style afghan. If you are a confident beginner and above, this is one class you don't want to miss!
One last design favorite (for this issue anyway!) is the Notes in the Garden Shawl crochet pattern! Who can resist all those shades of pink? It's my favorite color combination of all time (so I maybe a bit biased here) and is absolutely perfect! It's a cheerfully warm way to perk up any dreary day. I love wearing shawls as scarfs exactly as shown in the photo. It keeps me warm, but I can still wear a coat and have a lovely pop of color near my face. It's an accessory you'll wear all winter long!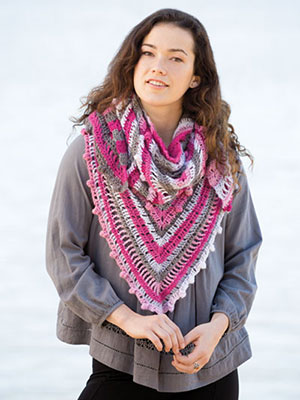 I really hope you will reward yourself this week with a project just for you. I'm stressing that idea so much because I have a dear friend who has crocheted for well over 30 years and, until recently, had never made anything for herself. Finally, (after much urging/nagging I might add!) she made a lovely cowgirl cowl for herself a few weeks ago and is already starting a second one. If we want others to value our work, we need to proudly wear it! Please share your new creations with us on our Facebook page. We would love to see what you are making!