Crochet News,
Views & How-tos
Knit and Crochet Now! Season 8!
Filming for season eight of Knit and Crochet Now! is underway! The first show will air on PBS in mid-September and on Create TV by mid-December or early January. You can watch it much sooner as an All-Access Member though! All-Access Members have full access to all 13 episodes and the 26 new patterns when we launch in mid-September!
When a new season of Knit and Crochet Now! begins filming, a flurry of activity descends on the studio from around the world! Show veterans Ellen Gormley, Lena Skvagerson and Jenny King will return, but we also have experienced designers who are new to the show. Melissa Leapman, Meredith Crawford, Kristen Mangus and Vanessa Vargas Wilson all join in on the fun. There are many changes coming to Knit and Crochet Now!, but many familiar favorites have remained the same.
This season features two new co-hosts, Lena Skvagerson and Connie Ellison, who are a wealth of information and a wonderful addition to the Knit and Crochet Now! team!
Lena Skvagerson is the lead designer for Annie's Signature Designs in both knit and crochet. She also contributes exclusive designs to Annie's Crochet!, Crochet World and Creative Knitting magazines, and Annie's Craft Catalog on a regular basis. She is also an instructor for Annie's online video classes. In addition to designing, she is the co-host and associate producer for Knit and Crochet Now!, as well as an expert on the show.
Lena spent over 25 years in the European yarn industry and loves all kinds of crafts, but yarn, knitting and crochet own her heart. She lives on the central coast of California with her husband and two college-age kids.
Co-host Connie Ellison is the executive crochet editor for Annie's and the editor of Crochet! magazine. Connie is also the crochet buyer for Annie's Craft Catalog and website, and oversees Annie's crochet pattern books. She began her career with Annie's in 1978. Crochet, reading and gardening are her passions, and she spends her summers canning and freezing vegetables grown on their farm. She lives in rural East Texas with her husband. They have two grown children and three grandchildren.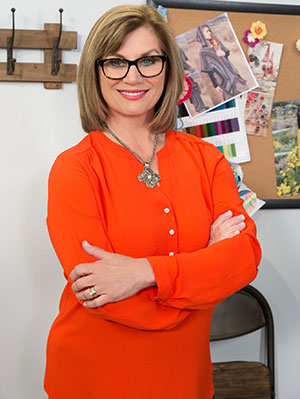 Fan favorite Ellen Gormley is back and excited about her new top-down sweater design that will debut when the show airs in September. It has a touch of Bruges lace, which is a favorite technique of hers. She says, "The new Port Orange Pullover is a light and airy sweater that has excellent drape. It uses a yarn (King Cole Drifter DK) that is new to me but has become a great addition to my go-to yarns! This variegated yarn is paired with an easy stitch pattern for fast and fashionable results!" Ellen teaches Bruges lace and other fun techniques in her Annie's online class, Learn to Crochet Lace: Hairpin, Broomstick & Bruges. You can also catch Ellen blogging on Go Crochet.
Jenny King joins the cast once again, bringing her bubbly personality and contagious enthusiasm to the show! Jenny teaches Annie's Learn to Bavarian Crochet online class, and is designer and owner of Jenny King Designs. She is also the creator, teacher and owner of Get Squared™.
It's a real treat to have Melissa Leapman join us for this new season! Melissa is a world-renown designer whose patterns have appeared in every major knit and crochet publication. She's the author of several books, is a much sought-after teacher, and is also the queen of cables! Melissa will show us how to cable without a cable needle. How cool is that? She will even teach us how to crochet different kinds of ribbing!
Other guests include the delightful designers and bloggers Kristen Mangus from Good Knit Kisses, Meredith Crawford from One Social Girl, and Vanessa Vargas Wilson from Crafty Gemini. Each guest brings a distinctive talent and new take on their favorite craft!
The featured projects are beautiful cardigans, fun hats, sweet baby blankets, warm slipper boots and so much more. We will learn what a lifeline for lace is and why we need it, how to get gauge, and how to make our own center-pull balls. Check your local listings for air dates. This is a season you won't want to miss!