In the World of Crochet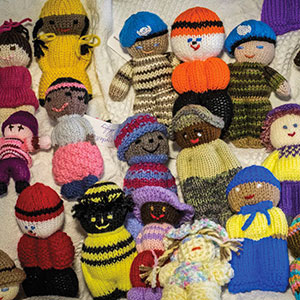 The Story of the Izzy Dolls
We recently came across a wonderful story that we just had to share with our readers. It's about the huge impact a little crocheted or knitted doll can make on children in areas around the world that have been ravaged by natural disasters, poverty and war.
The story begins with Master Corporal Mark Isfeld of the 1st Combat Engineer Regiment of the Canadian military, who trained to remove explosives and served with U.N. peacekeeping missions in Kuwait and Croatia in the early 1990s. He often encountered children, many of whom were maimed and disfigured, who had lost everything, sometimes even their parents. Seeing a broken doll in a pile of rubble, he thought a small toy might bring some comfort to these children devastated by war and destruction. He asked his mother, Carol Isfeld, to make some little dolls that he could easily carry in his pockets and give away to children who literally had no personal possessions -- and certainly no toys -- to remind them that they were still children. The small dolls given out by Master Corporal Isfeld were received with smiles and warmed not only the children's hearts, but Mark's heart as well. As his Section Commander once said, "Mark collected little hearts, he collected little smiles and he collected little handshakes."
Read the rest of this article and many more in our October issue of Crochet World magazine!