In the World of Crochet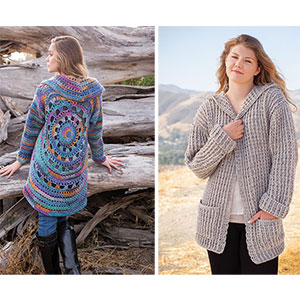 Annie's Signature Designs announces the Autumn Bliss Collection
Captivating knit and crochet patterns capturing the rustic elegance of color, light and texture.
BERNE, Ind. (Sept. 9, 2016) -- Annie's, a leading special-interest publisher in the craft and yarn markets, has created an exclusive pattern collection of 40+ enthralling knit and crochet pattern designs, presented in two stunning e-zine format Lookbooks releasing September 9 on AnniesSignatureDesigns.com.
Visionary and Lead Designer Lena Skvagerson draws inspiration from her Scandinavian roots and 25+ years of experience in the European yarn markets. With an intuitive sense of color, stitch pattern and on-trend design, she collaborated with a group of like-minded designers to create the Autumn Bliss pattern collection, with supporting "talking pattern" video tutorials rolling out in early September.
"As the collection evolves, we will continually incorporate these videos, which we've coined 'talking patterns,' because they essentially guide the knitter or crocheter through tricky parts of a pattern that may be a challenge if relying strictly on the written instructions," says Skvagerson.
"Through my own experience and personal sense of style, I gather inspiration from all that I see around me. I intuitively know what will attract a wide audience of people with a variety of tastes and aesthetics. I can see how a collection of pieces fits into a woman's wardrobe without being fussy or complicated, but rather clean and minimal. The designs I envision are timeless, just like my own sense of style," says Skvagerson.
The selection of pattern designs includes an eclectic mix of ponchos, scarves, hats, sweaters, cardigans, cowls and accessories mindfully paired with yarns that result in gorgeous creations that knitters and crocheters will appreciate for their practical and timeless simplicity.
On Sept. 9, 2016, we invite you to experience on adventure of color, texture, light and earth with Annie's Signature Designs. Watch the 360-view videos and visit www.AnniesSignatureDesigns.com to preview the current collection of knit and crochet patterns. Follow the collection on Instagram at @anniessignaturedesigns, and share using the hashtag #AnniesSignatureDesigns and #AnniesAutumnBlissCollection.
Annie's ( Annies-Publishing.com) is part of the third-generation Muselman family business headquartered in Berne, Ind., near Fort Wayne. Its products -- including magazines, kits and supplies, books, online classes and TV programming -- are targeted to home and family interests, including crafts, nostalgia and home decor. The Muselman business began in 1925 with the founding of Economy Printing Concern in Berne. EP Graphics, as it is known today, is still owned by the Muselman family.