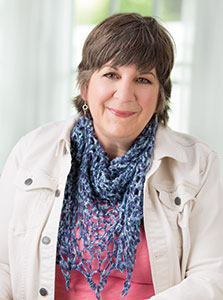 Note From the Editor
"I don't crochet much during the summer," said no passionate crocheter ever! If you are like me, you crochet year-round and wouldn't even think of not crocheting just because of a little rise in the temperature.
When crochet is your passion, your joy, your way to de-stress, it becomes a seasonless pursuit!
With that said, summertime can have us thinking about our crochet differently. We may be traveling and want portable projects. Or we may find ourselves sitting outside enjoying the beauty of nature and good conversation, so an easy repetitive pattern may be best. And, of course, if it is too hot, a large afghan may need to wait for cooler days so we don't suffer heatstroke under the warmth of our growing project!
In the Road Trip! chapter, we've included some projects that are perfect to take along and crochet on the go. I fell in love with Lena's Pouches and plan to make a few this summer. Not only are they small enough to crochet while you are traveling, but when you are finished you can use them to hold all the essentials you need for a day trip, including a small crochet project! Other small travel-worthy projects include Loopy Flower Coasters, a bookmark done in size 10 thread, a pretty open and airy motif scarf and, yes, even a throw! This pretty afghan is made in motifs and joined later when you arrive back home.
In our Summertime Living chapter, you'll find great, warm-weather projects for your home including the Summertime Picnic Set with its cute watermelon place mat and red checkered napkin ring complete with an ant! Or add a touch of the tropics to your home with our vibrant Something Fishy Pillow. We've added some quick projects too, including our fun Seaside Tote and Beachcomber Hat, both perfect for days by the pool or at the beach.
Rounding out this issue, our upfront features include a stunning lacy Tunisian poncho, a fun and practical basket made with 5 motifs, an heirloom doily pattern and a set of pan protectors made from cotton yarn scraps.
And finally, summer is a great time to share your love of crochet! The Beginner's Luck project just requires learning to chain and single crochet; so, pass on the tradition and teach someone you know to crochet! Let's not keep this great hobby just to ourselves!
Happy Crocheting!

Jackie Daugherty, Executive Editor
Jackie Daugherty is the editor of Crochet World magazine. She also edits the special newsstand issues of Crochet World and Crochet! magazines and is the project manager for Annie's Hook & Needle Club.
Jackie is a lifelong crafter and has been crocheting and knitting since she was 8 years old. In addition to managing a yarn shop for 10 years, Jackie has taught crochet and knit classes at local yarn shops and national events including CGOA for over 30 years. Jackie served as the vice president for CGOA from 2000-2003. During her tenure she established an exclusive pattern line which includes several of her designs. Jackie co-authored Kids Can Crochet and has published many patterns in several magazines and books.
Jackie lives with her husband and 2 rambunctious dogs in a tiny home filled with yarn!