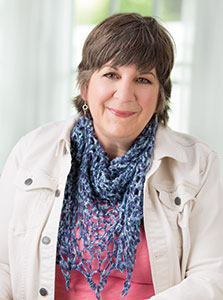 Note From the Editor
The air will soon have that cool crispness which makes you want to get out your crochet hooks and yarn and make something warm and cozy! Even though I crochet all year round, when the cooler weather hits, I tend to rev up my project quota!
If you have not had time over the summer to crochet, this issue will have you looking for your hooks too!
Even if you are short on time, you'll find a way to squeeze in a few moments to crochet the projects in our Big Hook chapter. In just an evening, you can crochet the Scarf in a Loop, which takes the technique of Bruges lace to a bold new level with chunky yarn. Or if you have a little more time, you might want to make the Fall Colors Rug, Button Accent Pillow or Braided Chain Shawl. All use a big hook and chunky yarn.
I have recently rediscovered Tunisian crochet and have been amazed by the beautiful designs and variety of projects that can be made with this technique. If you are new to Tunisian crochet, we have several inspiring projects for you to try in the Totally Tunisian chapter. Start with the Tunisian Kitchen Set to learn the basics and once you are hooked (pun intended!), progress on to the Velva Cowl, which is crocheted with a variegated yarn. Tunisian crochet blends the colors in a very pleasing way for truly stunning results. The unusual Tunisian Shells Throw will not only make a beautiful addition to your home, but it is also a fun piece to work with its simple pattern repeat and rhythmic forward and return pass. And finally, learn Tunisian Entrelac with our tutorial article; the unusual woven-look construction is the perfect playground for combining color and texture. Once you master the technique, have fun creating dozens of different variations of the Diamond Delights Hat.
In our Features section, you'll find two stunning motif throws in pretty fall color palettes and the perfect baby blanket to welcome a new baby boy.
Rounding out this issue, our up-front features include a pattern for a pullover hooded vest in sizes for children and adults, a pretty infinity scarf made using a new Tunisian technique, a stylish and quick-to-make hat, a scrap afghan and more!
Happy Crocheting!

Jackie Daugherty, Executive Editor
Jackie Daugherty is the editor of Crochet World magazine. She also edits the special newsstand issues of Crochet World and Crochet! magazines and is the project manager for Annie's Hook & Needle Club.
Jackie is a lifelong crafter and has been crocheting and knitting since she was 8 years old. In addition to managing a yarn shop for 10 years, Jackie has taught crochet and knit classes at local yarn shops and national events including CGOA for over 30 years. Jackie served as the vice president for CGOA from 2000-2003. During her tenure she established an exclusive pattern line which includes several of her designs. Jackie co-authored Kids Can Crochet and has published many patterns in several magazines and books.
Jackie lives with her husband and 2 rambunctious dogs in a tiny home filled with yarn!