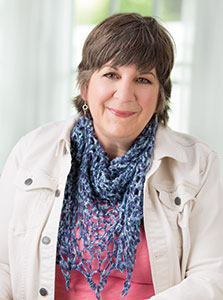 Note From the Editor
I love yarn and I love to crochet! Please allow me to introduce myself. My name is Jackie Daugherty and I have been the managing editor for Annie's crochet publications for the last two years. Upon Carol Alexander's retirement, I became the editor of Crochet World! Carol and I were a great team and I will miss her, but I feel confident her leadership has positioned me to step into my new role.
I am excited to hear from you and I hope you will write to me at Editor@Crochet-World.com with your ideas and suggestions. Let me get the introductions started as I tell you a little about myself:
My introduction to crochet began while visiting my paternal grandmother for a few days during the summer between 2nd and 3rd grade. She was not the warm, fuzzy type, and I never saw her crochet. On this visit, I must have been bothering her too much, because she went and found a ball of cream-colored wool and a small bone crochet hook and proceeded to teach me how to chain and single crochet. I was then told to "go practice!" Needless to say I was immediately hooked! (pun intended!) I spent many happy hours practicing and taking books out of the library so I could learn more. I would bug my parents for my allowance so I could go buy more yarn. For years, I had no idea that crochet patterns even existed until I discovered a pattern for a granny square vest made with Aunt Lydia's rug yarn at our local 5 & 10 store. I was shocked and amazed, bought the pattern and crocheted the vest that very same day!
My early experiences, although not the best way to learn a new craft, really forced me to explore on my own and made me fearless; I am really not afraid to try anything with a crochet hook!
I crochet every day and would be lost without it! I make use of carpool time to and from work by crocheting samples for upcoming projects. I crochet at home to relax and unwind from the day. I take my crochet on trips and in the car. I think about projects as I drift off to sleep and wake up in the middle of the night to sketch out ideas.
I look forward to hearing from you! Please share your stories; I would love to hear how crochet is part of your daily life.
Happy Crocheting!

Jackie Daugherty, Executive Editor
Jackie Daugherty is the editor of Crochet World magazine. She also edits the special newsstand issues of Crochet World and Crochet! magazines and is the project manager for Annie's Hook & Needle Club.
Jackie is a lifelong crafter and has been crocheting and knitting since she was 8 years old. In addition to managing a yarn shop for 10 years, Jackie has taught crochet and knit classes at local yarn shops and national events including CGOA for over 30 years. Jackie served as the vice president for CGOA from 2000-2003. During her tenure she established an exclusive pattern line which includes several of her designs. Jackie co-authored Kids Can Crochet and has published many patterns in several magazines and books.
Jackie lives with her husband and 2 rambunctious dogs in a tiny home filled with yarn!