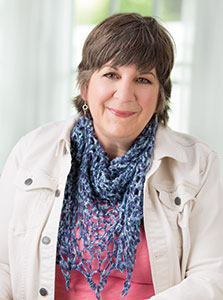 Note From the Editor
Do you love to crochet? What is your favorite part? Picking out the yarn? Starting a new project? Or do you love that moment when you give your latest crochet creation away to someone special?
If you are like me, you love all aspects of crochet! I can't wait to choose yarn and start the next project. And when I am finished I take great joy in sharing what I have created, giving it as a special gift to a friend or family member. It's fun to share our hobby with others, and to me one of the best ways to share our love of crochet is by passing on the tradition.
Whether you realize it or not, you have a lot of crochet knowledge to share, and teaching is a natural way to pass on your love of the craft. I am sure all of us can think of at least two people that we can teach to crochet. It may be a friend or your next-door neighbor. It might be the person who is always asking questions about your latest project, or the grandchild that keeps asking if they can "help" you crochet!
In the last issue, I shared with you about the Craft Yarn Council's Each One Teach Two initiative. As passionate crocheters, I think teaching others to crochet is one of the most important things we can do! When you teach someone to crochet, you provide them with a lifetime of enjoyment. And it helps keep the tradition of crochet alive. Oh, and if you need more reasons, crocheting and other hobbies have been shown to promote well-being and reduce stress!
I would like to encourage -- and challenge -- you to use the Beginner's Luck project in this issue to teach someone to crochet. I know you'll have fun, and you'll feel a sense of pride in your accomplishment too! The Craft Yarn Council's website (www.craftyarncouncil.com) has wonderful free resources to get you started.
And of course, there's lots more in store for you in this issue. In our special section, Oh Baby!, we've got the cutest projects perfect for baby gifts. The Down on the Farm baby blanket is sure to become a favorite with little ones with its lineup of silly farm animals. What a fun way to play I Spy! Or welcome a new baby girl into the family with the gorgeous Tiny Tulips Baby Blanket.
In the Crochet Meets Fabric section, we feature a variety of projects including a pretty jar topper for homemade food gifts and an exquisite tablecloth that would make a lovely heirloom wedding gift.
And last, our regular features include a very wearable lacy tee, some cute and cuddly critters, a fantastic scrap afghan and much more!
Happy Crocheting!

Jackie Daugherty, Executive Editor
Jackie Daugherty is the editor of Crochet World magazine. She also edits the special newsstand issues of Crochet World and Crochet! magazines and is the project manager for Annie's Hook & Needle Club.
Jackie is a lifelong crafter and has been crocheting and knitting since she was 8 years old. In addition to managing a yarn shop for 10 years, Jackie has taught crochet and knit classes at local yarn shops and national events including CGOA for over 30 years. Jackie served as the vice president for CGOA from 2000-2003. During her tenure she established an exclusive pattern line which includes several of her designs. Jackie co-authored Kids Can Crochet and has published many patterns in several magazines and books.
Jackie lives with her husband and 2 rambunctious dogs in a tiny home filled with yarn!