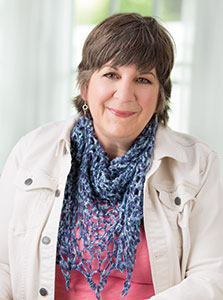 Note From the Editor
One of the things I love about crochet is that it is always new. You would think with a craft that uses something as simple as a hook and a ball of yarn, we would eventually run out of ideas and new techniques to try. But I am constantly astounded and excited to discover new design ideas and find new ways to reinterpret traditional techniques.
As summer fades into fall, now is a perfect time to enjoy the last warm days, relax in your favorite crochet spot and rediscover or maybe even learn one of the traditional crochet techniques in this issue. Our Something Old Made New! chapter may inspire you to try your hand at crocheting one of the beautiful afghans that reinterpret traditional techniques like broomstick lace or Tunisian crochet. You might want to learn tapestry crochet and make our pretty Variations Tapestry Tote, or learn a new way to do Bullion stitch and make the Fan-Dango Shrug for the cooler days of fall ahead. Designer Annette Stewart shows you how to create the pretty stitch she reinvented in her photo tutorial on pages 34 and 35.
If you find yourself traveling, take along one of the smaller projects from our Done in One chapter. We've included a pretty thread doily with an easy-to-memorize pattern, a lovely lace shawl crocheted in open crossed stitches, a cowl crocheted in a cotton ombré yarn for a neat effect, and a fun pair of beaded earrings you can make in no time! All use just one skein or ball of yarn or thread, making them perfect travel companions.
In addition, you'll find a stunning Bruges lace thread shawl, a quick-to-make place mat, a pretty lace top perfect for the casual days of summer and much more.
Rounding out this issue is our playful dinosaur pillow, a sweet baby blanket crocheted in simple-to-do linen stitch, a gorgeous lace table runner and other quick projects to decorate your home!
With over 20 projects to choose from, you are sure to find the perfect project as you enjoy the last days of summer!
Happy Crocheting!

Jackie Daugherty, Executive Editor
Jackie Daugherty is the editor of Crochet World magazine. She also edits the special newsstand issues of Crochet World and Crochet! magazines and is the project manager for Annie's Hook & Needle Club.
Jackie is a lifelong crafter and has been crocheting and knitting since she was 8 years old. In addition to managing a yarn shop for 10 years, Jackie has taught crochet and knit classes at local yarn shops and national events including CGOA for over 30 years. Jackie served as the vice president for CGOA from 2000-2003. During her tenure she established an exclusive pattern line which includes several of her designs. Jackie co-authored Kids Can Crochet and has published many patterns in several magazines and books.
Jackie lives with her husband and 2 rambunctious dogs in a tiny home filled with yarn!