Winner's Circle
Meet the Winner
Eve Leader
Nyla the Indian Elephant

I cannot remember a time when I was not interested in some sort of artistic expression. I am self-taught and love beading, crochet, decorative painting, decoupage, jewelry making, knitting, paper crafts, polymer clay and sewing!
I got hooked on crochet when I started crocheting afghans. Busy crafters understand how hard it can be to carve out large blocks of time to work on and to finish a project, so crocheting afghans one square at a time was the solution. Each square is like a mini project that can be finished in a spare moment.
The creation of Nyla the Indian Elephant for the Winnerís Circle was the result of a trip to a Japanese bookstore with my friend. I discovered amigurumi, the Japanese art of making small stuffed animals and anthropomorphic creatures.
My work has appeared in Bead Design Studio, Bead Unique, BeadWork, Crafts ín Things, Craft Ideas, Create & Decorate, Crochet World, Just Cards!, PolymerCAFE, Quick & Easy Painting, RubberStampMadness, Scrap & Stamp Arts, Soft Dolls & Animals and Stitch. If you are interested in seeing more of my work, please visit my blog at www.craftdesignerforhire.blogspot.com.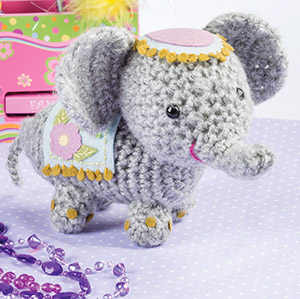 We know many talented readers enjoy designing their own patterns, from tablecloths to toys. Why not let others enjoy your pattern and earn a little cash in the process? We'll pay top dollar for your original crochet patterns. From those submitted, we'll choose a Winner's Circle prizewinning design.
Please send us the actual crocheted item(s), which will be photographed and returned to you. (Make sure you include return postage for the return of the item.)
Please e-mail (editor@crochet-world.com) or write for our Designer's Guidelines which provides necessary information when submitting designs.
All patterns submitted must be your own design and not a copy of another designer's pattern or copyrighted or licensed figures or characters (Disney or Sesame Street characters, etc.)
Designs should be sent to:
Winner's Circle
Crochet World
306 East Parr Road
Berne, IN 46711