Winner's Circle
Meet the Winner
Terry Day
Bumblebee Blanket

I grew up with a love of crochet and crafting from my mother and grandmother, who both had a hand in teaching me to crochet. My mother was left-handed, so it was a bit of a challenge at first, but with the additional help of my grandmother, and my intense desire to learn the craft, it has blossomed into one of my greatest passions in life. I love the creative process, and I hope that my designs inspire others to make my designs and spark their creativity as well. My family is a great source of encouragement and they can't wait to see what I come up with next.
I have been crocheting since the age of 12, and have been designing on and off for over 30 years, which has now become my full time profession. I feel very blessed to do what I love every day as my work at home job. I live in a small rural country area in Ohio with my husband of 37 years, Darby. I hope to inspire all the crafters out there to pursue their crafting and crocheting dreams, and together we can keep the art of crochet alive and well forever.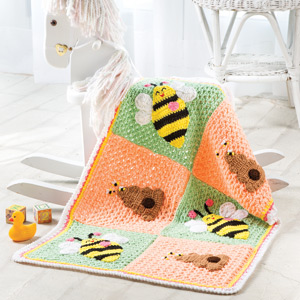 We know many talented readers enjoy designing their own patterns, from tablecloths to toys. Why not let others enjoy your pattern and earn a little cash in the process? We'll pay top dollar for your original crochet patterns. From those submitted, we'll choose a Winner's Circle prizewinning design.
Please send us the actual crocheted item(s), which will be photographed and returned to you. (Make sure you include return postage for the return of the item.)
Please e-mail (editor@crochet-world.com) or write for our Designer's Guidelines which provides necessary information when submitting designs.
All patterns submitted must be your own design and not a copy of another designer's pattern or copyrighted or licensed figures or characters (Disney or Sesame Street characters, etc.)
Designs should be sent to:
Winner's Circle
Crochet World
306 East Parr Road
Berne, IN 46711