Winner's Circle
Meet the Winner
Lorene Eppolite
Point Pleasant Wrap

I love to create fun and easy crochet accessories and garments. I strive to make my designs achievable for any skill level. Just because it is easy doesn't mean it can't be beautiful. My favorite items to design are fashionable tops, shawls and cowls, especially using fun lacy patterns.
I was taught to crochet by my grandmother when I was a small child, but didn't really fall in love with the craft until 2010, when I designed my first pattern for my best friend who was expecting her first child. I began to design professionally in 2012 when I created my blog, Cre8tion Crochet.
I live in a gorgeous coastal area in North Carolina with my husband and three children. You can read more about my designs on my blog at http://cre8tioncrochet.com.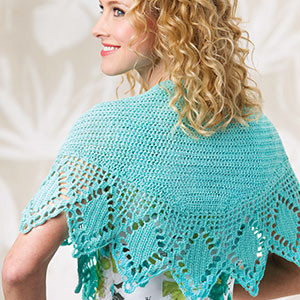 We know many talented readers enjoy designing their own patterns, from tablecloths to toys. Why not let others enjoy your pattern and earn a little cash in the process? We'll pay top dollar for your original crochet patterns. From those submitted, we'll choose a Winner's Circle prizewinning design.
Please send us the actual crocheted item(s), which will be photographed and returned to you. (Make sure you include return postage for the return of the item.)
Please e-mail (editor@crochet-world.com) or write for our Designer's Guidelines which provides necessary information when submitting designs.
All patterns submitted must be your own design and not a copy of another designer's pattern or copyrighted or licensed figures or characters (Disney or Sesame Street characters, etc.)
Designs should be sent to:
Winner's Circle
Crochet World
306 East Parr Road
Berne, IN 46711