Winner's Circle
Meet the Winner
Cindy Adams
Amethyst Lace Wrap

I grew up in Dallas, Texas. I don't remember when I learned to crochet, but I'm guessing it was when I was about 8 or 9 and I would go visit my aunt who was a home economics teacher. It just seems like I've been crocheting all my life.
My husband and I moved to Phoenix during our early years of marriage and still reside there. Fast-forward through my "mom years" when I did the usual stuff with my two sons -- Cub Scouts, sports, volunteering at school, etc. When my sons were in high school, I went back to my fiber-art roots. I had the pleasure of working at several different yarn stores in the Phoenix area and have also taught classes for just about every fiber-related craft!
My professional career began by designing for a local yarn company, but I moved to the big time when I was approached in the restroom at a CGOA conference by a lady who came up to me and handed me her card, and said to get in touch when I got home. It turns out she was the executive editor of a needlework book publishing company, which turned out to be Annie's! Now I only submit designs to them!
When I'm not designing or spending time with my two grandchildren, I volunteer with the local Back to School Clothing Drive. Each child is given the usual uniform and backpack, but they also receive a handmade hat, which I think is a little unusual for our hotter climate. But I was at a big box store buying yarn for hats recently and mentioned that I don't quite understand hats for kids in Phoenix in July. The clerk was about 16 years old, 5 feet tall and maybe 90 pounds. She puffed herself up, put her hands on her hips and told me, "I'm an orphan, and anything I got that was handmade made me feel special. So just go home and crochet!" So I do!
My favorite projects are made from motifs that are assembled as I work -- anything from afghans to shawls to scarves. I spend lots of time looking at Japanese stitch books for inspiration and new techniques. I also love to work with lots of different fibers, textures and colors in the same project.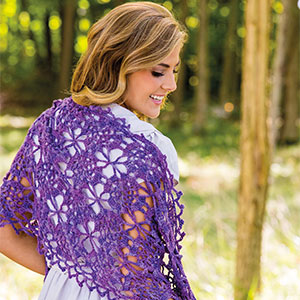 We know many talented readers enjoy designing their own patterns, from tablecloths to toys. Why not let others enjoy your pattern and earn a little cash in the process? We'll pay top dollar for your original crochet patterns. From those submitted, we'll choose a Winner's Circle prizewinning design.
Please send us the actual crocheted item(s), which will be photographed and returned to you. (Make sure you include return postage for the return of the item.)
Please e-mail (editor@crochet-world.com) or write for our Designer's Guidelines which provides necessary information when submitting designs.
All patterns submitted must be your own design and not a copy of another designer's pattern or copyrighted or licensed figures or characters (Disney or Sesame Street characters, etc.)
Designs should be sent to:
Winner's Circle
Crochet World
306 East Parr Road
Berne, IN 46711