Winner's Circle
Meet the Winner
Dora Ohrenstein

Dora Ohrenstein is a leading crochet designer, author and teacher. Her books include The New Tunisian Crochet (2013); Custom Crocheted Sweaters (2012), the first in-depth book on sweater construction and alteration for crocheters; Creating Crochet Fabric (2010); and Crochet Insider's Passion for Fashion (2008). Dora's chic and innovative designs appear regularly in Crochet!, Interweave Crochet, Vogue Knitting Crochet and Crochet Today! magazines. She is co-editor of Annie's widely read Talking Crochet newsletter, and she has written for various other publications about crochet history, international traditions and techniques. Dora is the founder and editor of Crochet Insider, an online magazine that has won the Flamie Award (the Annual Crochet Awards) three times. Check it out at www.CrochetInsider.com. Dora is also a professional singer and voice teacher.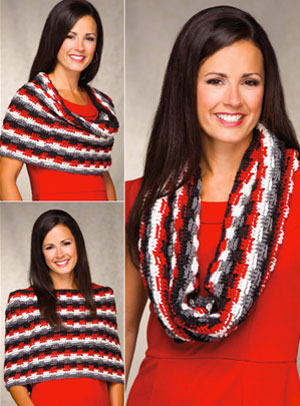 We know many talented readers enjoy designing their own patterns, from tablecloths to toys. Why not let others enjoy your pattern and earn a little cash in the process? We'll pay top dollar for your original crochet patterns. From those submitted, we'll choose a Winner's Circle prizewinning design.
Please send us the actual crocheted item(s), which will be photographed and returned to you. (Make sure you include return postage for the return of the item.)
Please e-mail (editor@crochet-world.com) or write for our Designer's Guidelines which provides necessary information when submitting designs.
All patterns submitted must be your own design and not a copy of another designer's pattern or copyrighted or licensed figures or characters (Disney or Sesame Street characters, etc.)
Designs should be sent to:
Winner's Circle
Crochet World
306 East Parr Road
Berne, IN 46711