Winner's Circle
Meet the Winner
Jennifer E. Ryan
Mandala Wall Art

My name is Jennifer E. Ryan, and I am an award-winning published crochet designer and instructor who lives in New England. My specialty is combining Celtic knots with crochet. I have won awards for my unique garments in the CGOA Design Competitions for 2012, 2013 and 2014, several of which have been published in Crochet! magazine. I love all of the creative possibilities there are with large-scale "yarn graffiti." Last year I designed and implemented the successful community yarn bomb for The Knit & Crochet Show. I am also a homeschool mom, and I teach Russian and own a precocious miniature dachshund. You can see all of my designs and projects at www.celticknotcrochet.blogspot.com.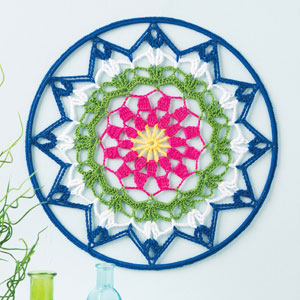 We know many talented readers enjoy designing their own patterns, from tablecloths to toys. Why not let others enjoy your pattern and earn a little cash in the process? We'll pay top dollar for your original crochet patterns. From those submitted, we'll choose a Winner's Circle prizewinning design.
Please send us the actual crocheted item(s), which will be photographed and returned to you. (Make sure you include return postage for the return of the item.)
Please e-mail (editor@crochet-world.com) or write for our Designer's Guidelines which provides necessary information when submitting designs.
All patterns submitted must be your own design and not a copy of another designer's pattern or copyrighted or licensed figures or characters (Disney or Sesame Street characters, etc.)
Designs should be sent to:
Winner's Circle
Crochet World
306 East Parr Road
Berne, IN 46711