Winner's Circle
Meet The Winner
Diane Lavos
Fiesta Table Mat

A white cotton "bedspread thread" dress, crocheted by me in 1970 and still in my closet, reminds me how quickly I fell in love with this craft. It was my second or third crochet project, after my first beginner's vest. I had tried knitting, but found that all the garments I liked in the booming proliferation of needlework magazines were crocheted. If it was loopy, curvy or lacelike, I liked it.
After seeing a pamphlet titled "A Designer's Way With Crochet," I began using shapes and forms to make up my own designs. I explored every size hook and thickness of yarn/thread/jute/string, and read Fiber Arts magazine. From 1975 to 1985 I sold my crocheted accessories and mandala window hangings through Boulder (Colo.) Arts and Crafts Cooperative -- fun but not so profitable for me.
Later, in Massachusetts, I worked as a writer-editor and time for handcrafting was tight. My dreams had to wait in the idea stage. A year ago I took a new look at a wildly colored doily, made of circles and openwork, that I had crocheted years before. It was my prototype for the Fiesta Table Mat.
By refining the design and materials of that early Fiesta project, I made strides toward crochet as an art form that I can teach others. Since joining the Crochet Guild of America and being inspired by published designers, I'm ready to see where my hook and urgent love of design will take me.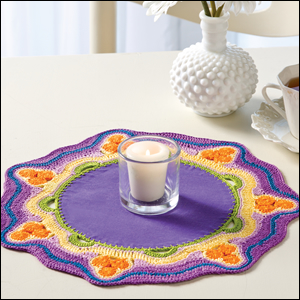 We know many talented readers enjoy designing their own patterns, from tablecloths to toys. Why not let others enjoy your pattern and earn a little cash in the process? We'll pay top dollar for your original crochet patterns. From those submitted, we'll choose a Winner's Circle prizewinning design.
Please send us the actual crocheted item(s), which will be photographed and returned to you. (Make sure you include return postage for the return of the item.)
Please e-mail (editor@crochet-world.com) or write for our Designer's Guidelines which provides necessary information when submitting designs.
All patterns submitted must be your own design and not a copy of another designer's pattern or copyrighted or licensed figures or characters (Disney or Sesame Street characters, etc.)
Designs should be sent to:
Winner's Circle
Crochet World
306 East Parr Road
Berne, IN 46711