Winner's Circle
Meet the Winner
Jennifer Raymond

My name is Jennifer Raymond (née Crowley). I am a knitting and crochet designer, and I teach classes along the East Coast. Locally I have taught at Woolwinders Yarn Shop in Rockville, Md.; Fibre Space in Alexandria, Va.; and at the New England Fiber Festival. I have recently been published in Crochet World, Interweave Crochet and Interweave Sockupied magazines and on the KnitPicks and Classic Elite websites. You can view my designer page on Ravelry at www.ravelry.com/designers/jennifer-raymond. When I'm not stitching up a storm, I enjoy biking, gardening and dabbling in other handcrafts.

I first learned to crochet when I was 7 years old, and I followed that up by learning to knit when I was 8. But I didn't discover my first local yarn shop, The Needlecraft Center, until I attended Davidson College in Davidson, N.C. When I wasn't studying, I spent my time at The Needlecraft Center honing my craft. While completing my degree in English literature, I taught knitting and crochet. During my senior year, I took two semesters of a sculpture class, culminating in my piece, Rebellion Against the Sampler, which won second place in the student art show. After graduation, I moved to Silver Spring, Md., where I began my fiber-arts business, Tinking Turtle LLC. Currently, I live in Ashland, Va., with my husband/business partner and my two cats.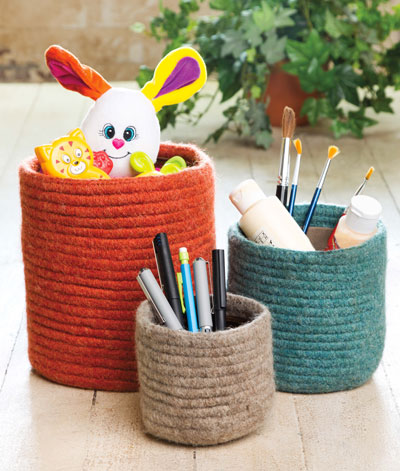 We know many talented readers enjoy designing their own patterns, from tablecloths to toys. Why not let others enjoy your pattern and earn a little cash in the process? We'll pay top dollar for your original crochet patterns. From those submitted, we'll choose a Winner's Circle prizewinning design.
Please send us the actual crocheted item(s), which will be photographed and returned to you. (Make sure you include return postage for the return of the item.)
Please e-mail (editor@crochet-world.com) or write for our Designer's Guidelines which provides necessary information when submitting designs.
All patterns submitted must be your own design and not a copy of another designer's pattern or copyrighted or licensed figures or characters (Disney or Sesame Street characters, etc.)
Designs should be sent to:
Winner's Circle
Crochet World
306 East Parr Road
Berne, IN 46711