Winner's Circle
Meet the Winner
Anita Wilburn Darras
U.S. Army Tartan Throw

When I was 5, my mother taught me to crochet. I would spend hours sitting on my little cricket stool turning out chain necklaces while Momma crocheted dozens of afghans, sweaters, hats and so much more. My mother was a true artist of all kinds of needlework; embroidery, smocking, tatting, dressmaking, knitting, quilting -- she could do it all. She even braided all the rugs in our house! In 2014, my sisters and I launched the Marian G. Wilburn Foundation (www.marianwilburnfoundation.org) in her memory. The foundation is dedicated to education in all the fiber/needle arts. We raise money for scholarships in fiber-arts education and help to underwrite the Crochet Guild of America's Young Designer Prize. We also seek to honor needle artists of the past by restoring and preserving their handiwork.
The U.S. Army Tartan Throw is my first published design. A lot of the credit for its creation goes to my husband, Norman. You see, I love plaid. And even more than I love plaid, I love the way a man looks in a plaid kilt. After much nudging, my husband finally agreed to wear a kilt, but only if I could find a tartan to which he was "entitled." He did not want to wear a clan kilt nor a regional kilt since he is not Scottish. At last I came across a U.S. Army tartan kilt. As a Korean War draftee, my husband said he would be proud to wear the Army's colors. To commemorate the occasion of his first "wearin' o' the kilt," I created this afghan.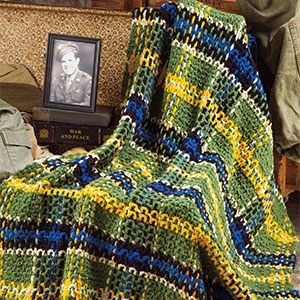 We know many talented readers enjoy designing their own patterns, from tablecloths to toys. Why not let others enjoy your pattern and earn a little cash in the process? We'll pay top dollar for your original crochet patterns. From those submitted, we'll choose a Winner's Circle prizewinning design.
Please send us the actual crocheted item(s), which will be photographed and returned to you. (Make sure you include return postage for the return of the item.)
Please e-mail (editor@crochet-world.com) or write for our Designer's Guidelines which provides necessary information when submitting designs.
All patterns submitted must be your own design and not a copy of another designer's pattern or copyrighted or licensed figures or characters (Disney or Sesame Street characters, etc.)
Designs should be sent to:
Winner's Circle
Crochet World
306 East Parr Road
Berne, IN 46711