Winner's Circle
Meet the Winner
Anne McIntosh

I grew up on a farm in Northern Alberta, Canada, and mostly through necessity, my mom taught me how to knit. I started at the age of 11, learning how to knit socks, mittens and scarves. When I entered the seventh grade, I was taught crochet, petit point, cross-stitch and macramé.
I've enjoyed knitting and crocheting many items for my family and friends. Over the years I have crocheted a variety of items that include afghans, doilies and tablecloths. I've knitted just as many items, including sweaters, cardigans, mittens, gloves, socks and toques -- just to name a few. One of my most interesting projects was knitting sweaters for the mascots of the Quebec Winter Games. Talk about large sweaters!
Growing up on a farm, we couldn't afford to buy the cotton for crocheting, so I resorted to using flour-, sugar- and salt-sack string to crochet doilies for more practice. This, along with many other "make do" arrangements, has endeared crocheting and knitting to me for the past 65 years. It is one of my passions in life, and I will continue as long as the good Lord allows me to do so.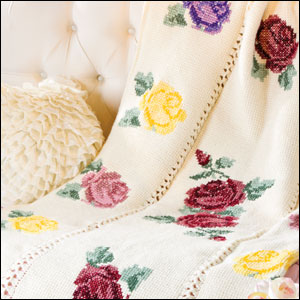 We know many talented readers enjoy designing their own patterns, from tablecloths to toys. Why not let others enjoy your pattern and earn a little cash in the process? We'll pay top dollar for your original crochet patterns. From those submitted, we'll choose a Winner's Circle prizewinning design.
Please send us the actual crocheted item(s), which will be photographed and returned to you. (Make sure you include return postage for the return of the item.)
Please e-mail (editor@crochet-world.com) or write for our Designer's Guidelines which provides necessary information when submitting designs.
All patterns submitted must be your own design and not a copy of another designer's pattern or copyrighted or licensed figures or characters (Disney or Sesame Street characters, etc.)
Designs should be sent to:
Winner's Circle
Crochet World
306 East Parr Road
Berne, IN 46711