Winner's Circle
Meet the Winner
Rena V. Stevens
Scrolling Scallops Shawl

I was born in the Netherlands (a long time ago), where I lived until I was nine years old. In those days, girls stayed in school on Wednesday afternoons to learn needlework, while the boys got to go out and play! I loved it, though, and "designed" tons of crocheted and knitted doll clothes as a child, and then went on to design my own sweaters as a teenager.
It wasn't until I was in my 40s that it dawned on me that maybe I could sell my designs, and I sold the very first project I submitted -- a crocheted afghan. I've been selling my designs ever since. Shawls, scarves and afghans are my favorite projects to design and crochet, mostly because they provide an almost limitless "canvas" for design and tend to be more timeless than trendy garments.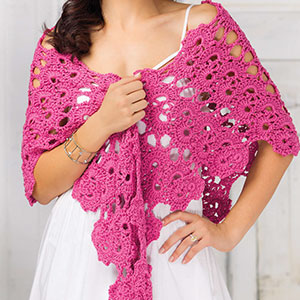 We know many talented readers enjoy designing their own patterns, from tablecloths to toys. Why not let others enjoy your pattern and earn a little cash in the process? We'll pay top dollar for your original crochet patterns. From those submitted, we'll choose a Winner's Circle prizewinning design.
Please send us the actual crocheted item(s), which will be photographed and returned to you. (Make sure you include return postage for the return of the item.)
Please e-mail (editor@crochet-world.com) or write for our Designer's Guidelines which provides necessary information when submitting designs.
All patterns submitted must be your own design and not a copy of another designer's pattern or copyrighted or licensed figures or characters (Disney or Sesame Street characters, etc.)
Designs should be sent to:
Winner's Circle
Crochet World
306 East Parr Road
Berne, IN 46711