Winner's Circle
Meet the Winner
Roseanna Beck
Flirty Fans Afghan

My name is Roseanna Beck, and I'm a 64-year-old homemaker. My husband and I have been married since 1978, and my favorite thing to do (after crafts, of course) is play the organ. I do a lot of crafts for various charities, and I am also a published designer in many magazines and books. I have crocheted and knitted for most of my life, but have only been designing for magazines and books for about 20 years.
I mainly design in crochet and plastic canvas, but I also knit and do needlepoint and latch hook. I have been crocheting and knitting since I was 7 years old. I learned from my best friend's grandmother who was in a wheelchair. Two of my friends and I would sit on her porch for an hour or so and have a lesson. First, of course, we did chains, and then she gradually taught us to make doilies and crochet around handkerchiefs; we worked with a size 13 hook, which I still have today. Eventually, I learned to make other things. It was a little harder for me at first because I am naturally left-handed and she was right-handed. Later in life I taught myself to crochet and knit right-handed as it was easier to follow patterns. I am proud to say I am the only one of my friend group who still uses this skill after all these years.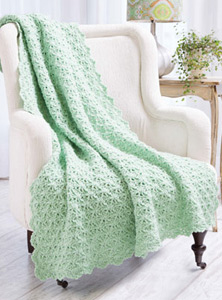 We know many talented readers enjoy designing their own patterns, from tablecloths to toys. Why not let others enjoy your pattern and earn a little cash in the process? We'll pay top dollar for your original crochet patterns. From those submitted, we'll choose a Winner's Circle prizewinning design.
Please send us the actual crocheted item(s), which will be photographed and returned to you. (Make sure you include return postage for the return of the item.)
Please e-mail (editor@crochet-world.com) or write for our Designer's Guidelines which provides necessary information when submitting designs.
All patterns submitted must be your own design and not a copy of another designer's pattern or copyrighted or licensed figures or characters (Disney or Sesame Street characters, etc.)
Designs should be sent to:
Winner's Circle
Crochet World
306 East Parr Road
Berne, IN 46711