Winner's Circle
Meet the Winner
Victoria C. Walker
Luxury Lace Cowl

My name is Victoria C. Walker, and I was about 7 or 8 years old when my mother handed me a ball of yarn and a crochet hook and taught me the basic crochet stitches. No matter what other craft I learned, crochet has remained my favorite. Although most people assume crocheting requires a lot of patience, I actually have no patience; this is my therapy! Eventually, I began designing my own projects, but when I discovered a pattern book for Victorian crochet lace while researching a project in the local library, it was love at first sight! I have been experimenting and designing with Victorian-style lace crochet in various forms since then. My journey has taken me to Pigeon Forge, Tenn., from where I market Victorian-style crocheted lace items through my business, VictoriasLace, Etc... . I also love to sew, weave and cross stitch, and I am currently exploring kumihimo (the Japanese braiding technique).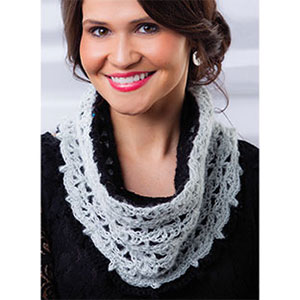 We know many talented readers enjoy designing their own patterns, from tablecloths to toys. Why not let others enjoy your pattern and earn a little cash in the process? We'll pay top dollar for your original crochet patterns. From those submitted, we'll choose a Winner's Circle prizewinning design.
Please send us the actual crocheted item(s), which will be photographed and returned to you. (Make sure you include return postage for the return of the item.)
Please e-mail (editor@crochet-world.com) or write for our Designer's Guidelines which provides necessary information when submitting designs.
All patterns submitted must be your own design and not a copy of another designer's pattern or copyrighted or licensed figures or characters (Disney or Sesame Street characters, etc.)
Designs should be sent to:
Winner's Circle
Crochet World
306 East Parr Road
Berne, IN 46711