Interview With Cristina Mershon
Annie's has a fabulous shawl book by designer Cristina Mershon, called Exquisite Crochet Shawls. Each shawl is truly exquisite, with lacy motifs and stitches that bring out all the beauty of crochet. I talked with Cristina recently about her designs for this book.
Dora: Do you enjoy designing shawls?
Cristina: I enjoy it very much! I never thought that a shawl was something trendy since I always saw my grandma back in our small village in Spain wearing one "to keep the bones warm" in the winter. When I started to crochet, shawls were the item where I could showcase beautiful stitches and wear in summer or winter. So I made one and wore it to a business meeting with jeans and high heels, and everybody was asking where I bought such a fashionable item. I couldn't believe it! That's when I started creating modern versions for everyday wear, for young women and for the young at heart. That's how I came up with Exquisite Crochet Shawls.
Dora: Do you wear shawls?
Cristina: I do, all the time. It's the perfect wardrobe item that I can wear in winter as a scarf and in warm weather as a cover-up, and still show the intricate details of the crochet stitches. It's a great way to wear your crochet.
Dora: Tell us about the yarns and stitches you used in the book.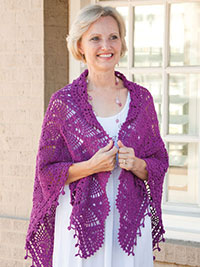 Cristina: My favorite yarn to use for shawls is cotton, especially pima cotton, because it's just like crocheting marshmallows, so soft and shiny, I love it! One of my favorites is Cascade Yarns Ultra Pima, which I used in the Art Deco Shawl. For the Alborada Shawl I used Tahki Yarns Cotton Classic Lite, which worked perfectly in the pineapple stitch, because it holds the shape really well. The color was stunning! "Alborada" means "dawn" in my native language Galego, a language spoken only in the northwest area of Spain, a mix of Portuguese, Spanish and Latin.

The most popular of all the shawls in the book is the Celtic Nature shawl on the cover. The motifs flow so nicely and wrap around you without using a triangular shape. Shawls always fall off your shoulders, so I wanted to create a shape that would stay in place without having to wrap it around the neck all the time. The motifs were inspired by Celtic stone markings found in my hometown in Spain, an area colonized by the Irish many centuries ago. The yarn is Universal Yarn Nazli Gelin Garden -- it's gorgeous too, very, very soft and bright. And did you see the little dangling tiny motifs around the edge on the shawl? I thought it was an extra touch that would make it way more special.
Dora: How did you come to crochet?
Cristina: Crochet is my passion! I started knitting when I was around 8 years old. It was a family tradition to make sweaters for everybody in the family. Crochet back in Spain was only for doilies. When I came to this country I discovered that crochet wasn't limited to table coverings, and I started converting my mom and grandma's lacy doilies into sweaters and scarfs. I loved it!

Now I am a graphic designer at an advertising agency, mother of four little ones and a wife. Crochet is the way I have to create something that is just for me, like art.
Dora: Thank you Cristina for this inspiring story!
Click here to get Cristina's book, Exquisite Crochet Shawls.