Shawls & Their Shapes
Shawls never seem to go out of style. They adapt so well to changing fashions and seasons that they've been worn by women for centuries. Modern crocheters have taken up the mantle of this honored tradition enthusiastically, and it's fun to watch how shawls continue to evolve.
One of the ways shawls keep up with fashion is by taking new forms and shapes. Triangular shawls, all the rage not long ago, are being replaced by the current trend of crescent-shaped shawls. People like how well this form stays put on the shoulders. Whatever shape you decide to make, a shawl can be made for either casual wear or special occasions.
Some of the loveliest crochet shawls I've seen are made by designer Lily Go, who sells her patterns on Ravelry and on her blog. Below is one of my favorites, called Gathering Leaves. Lily lives on the Malaysian island of Penang and is a self-taught crocheter and knitter. What a talent!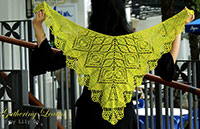 Gathering Leaves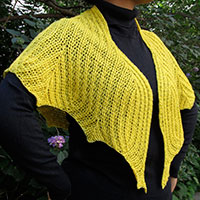 Lifelines
Another favorite of mine is the shawl called Lifelines, designed by Aparna Rolfe, who lives in Boston. The delicate lines are formed by front and back post stitches. Not only is this gorgeous, but it's a free pattern on Ravelry!
If you're interested in exploring more about shawls and their shapes, I recommend this site Tricky Knitter.com. While the information is from a knitter's point of view, there is much that can be applied to crochet.