| | |
| --- | --- |
| Talking Crochet Newsletter | |
A Celt Speaks Out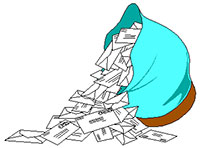 I receive a lot of heartwarming and informative emails from readers and appreciate your taking time to write so much!
MaryAnn writes: "The Aran Isles are Scottish. Aran Island is Irish. They both may be spelled with one or two r's. The famed sweaters are Irish. Being an Irish/Scottish blend, I was always confused by this myself until visiting there. All of us Celts are big into our wool and knitting and crocheting; the shared blood of Scots and Irish make for beautiful music, woolens and well ... common place names. I like to incorporate my [entire] Celtic heritage in my needlework whenever possible. Thanks for including it in your magazine!"
Send feedback!
Fill out my easy feedback form and let me know your thoughts, questions, news or anything else you want to tell me about. You never know, I may feature it in an upcoming issue of Talking Crochet newsletter. Keep reading!