Crochet News,
Views & How-tos
A Garden of Shawls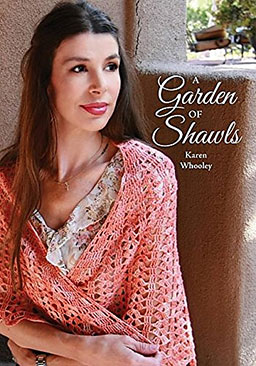 Credit Photo © 2017 Karen Whooley. Photo Credit: Anne Podlesak
Author, teacher and designer Karen Whooley has really outdone herself with her newest book! It's a stunning array of gorgeous Italian lace-inspired shawls. I guarantee you will want to make each one more than once. A Garden of Shawls will be your go-to book for years to come!
Karen has laid the book out perfectly. She explains how to substitute yarns (if you must -- but I wouldn't if it's not absolutely necessary!), how to block to get gauge, and even covers how to read charts. That's right, charts! Each pattern comes with both written instructions and charts. The charts are all a very nice size and easy to read. She has also included schematics for each shawl. That way you know exactly the shape your shawl will be when finished. I love that! Not many publications offer it, and as a visual learner, I find it very helpful to see exactly what my work should look like when following a pattern.
I fell in love with her Violaceous Shawl the moment I saw it! The delicate filet flowers really bring the beauty and romance of spring to her shawl. I can easily see wearing one in different colors all season long.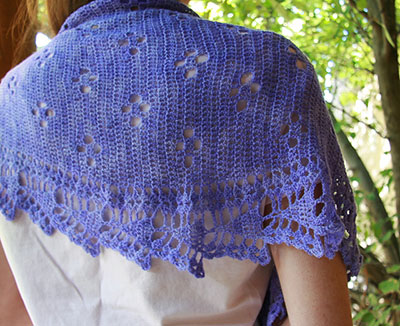 Credit Photo © 2017 Karen Whooley. Photo Credit: Anne Podlesak
If you are intrigued by top-down crochet, Karen has included shawls that are the perfect introduction to the technique. These are worked exactly as the name implies. You begin at the base of the neck and the shawl quickly grows from there. I enjoy this particular technique most because I'm short. Top-down construction makes it easy to modify any pattern! You can just stop when it's the perfect length.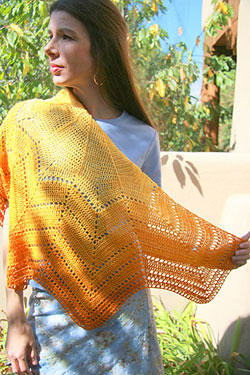 Credit Photo © 2017 Karen Whooley. Photo Credit: Anne Podlesak
Karen has also included side-to-side shawls which are a lot of fun to make! Her delightful edgings are dainty and sweet -- perfect warm-weather elegance! There is such a wide variety of shawls in A Garden of Shawls. I'm sure there will be many that quickly become your favorites too!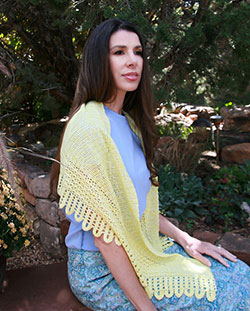 Credit Photo © 2017 Karen Whooley. Photo Credit: Anne Podlesak
Karen was also kind enough to offer a free book to one lucky winner. Click on over to www.karenwhooley.com/win-copy-garden-shawls/ to enter for your chance to win! You can also purchase autographed copies of Karen's books on her site!