Crochet News,
Views & How-tos
Book Review: Learn Drop Stitch Crochet by Kim Guzman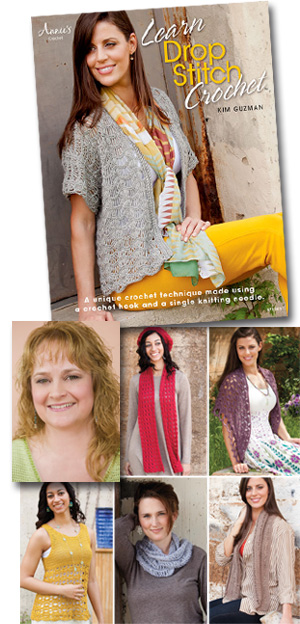 For those of you who are always looking for a new crochet technique to entertain or challenge you, this book is for you! Kim Guzman is a multitalented needlecrafter, designer and business woman. Once again, she has demonstrated her teaching skills with this excellent tutorial on drop stitch crochet!
Not only are the illustrations clear and concise in this booklet, but it is also jam-packed with exquisite and fashionable designs using the technique. In the introduction, Kim states that she found this "fringing" technique in a book from the 1970s and that it resembles broomstick lace.
Wanting to add a little touch of herself, Kim says she was inspired by the grapes in her garden and has used the many varieties of grape names for her projects. Inside the book, you will find an array of designs ranging from a cap and scarf, cowl, wrap, tank top and jacket; all are very fashionable. A range of skill levels is also offered from easy to experienced.
You'll find inspiration for holiday gifts in Learn Drop Stitch Crochet, and I also urge you to crochet at least one of the projects for yourself. If you enjoy videos or are a visual learner, you will enjoy Kim's tutorial on YouTube.
Her booklet is available at AnniesCatalog.com and retails for $9.95. Have fun!