Fasten Off
In closing, I hope you've enjoyed this latest issue and I look forward to hearing from you. Please send me your suggestions of what you'd like to learn in future issues.
Hooks 'n' Happiness,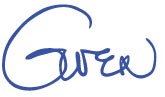 Gwen Blakley Kinsler
editor, Talking Crochet newsletter
---
Gwen Blakley Kinsler, founder of the Crochet Guild of America (CGOA), is a "Crock Star"© (Crochet + Rock = Crock) who toots her hook and sings the praises of crochet! A widely published author of articles on needlework and original design instructions, she is committed to the importance of sharing her passion for crochet with everyone she meets, especially the next generation. Co-author of two popular how-to books, Kids Can Do It Crocheting and Magical Misers' Purses: Crochet Patterns With Victorian Inspiration, Gwen is a certified Craft Yarn Council of America instructor and recipient of the International Diploma in Crochet Part One.
---
Send feedback!
Fill out my easy feedback form and let me know your thoughts, questions, news or anything else you want to tell me about. You never know, I may feature it in an upcoming issue of Talking Crochet newsletter. Keep reading!