Crochet News,
Views & How-tos
Pot Holders:
Necessity Is the Mother of Invention

Pot holders: They are kitschy, endearing and crocheted with incredible skills.
It seems today, pot holders are used more to decorate our kitchens with their colorful and sturdy design. We tend to think of them only when we need to use them, little else about pot holders grabs our attention. Have you ever seen a recipe that mentions a pot holder as a necessary part of the cooking process? The pot holders I use daily are very streamlined and practical and match my kitchen decor. The few crocheted ones in my collection have never been used to cook with, but they are very special and make me smile!
Who invented pot holders? Were cavemen so crude that they were able to use their bare hands? Were the pioneers who cooked over raging fires with iron kettles using a stick or iron rod to lift those heavy, hot pots off the fire? Eventually, weaving came along and we were able to make fabric. Were leaves or small branches folded into fabric to give sturdiness to the operation? What kind of fabric was used before the advent of flame-retardant material? How many layers of fabric were necessary to prevent burns to the hands?
Crochet potholders, whether practical or even that effective in preventing burns, seem to have a proud history for crocheters if not otherwise. They are appealing and quick and fun to crochet.
"Evolution of the Pot holder -- From Technology to Popular Art" by Rachel Maines appeared in the Journal of Popular Culture March 5, 2004 (Vol. 19, issue 1). Here she described the pot holder as "humble" and stated that it is so commonplace that we rarely notice it except when it is not at hand when we need it! She went on to say that it is so taken for granted that it is rarely mentioned in cookbooks. "It is an artifact without apparent history," she explains.
From an article in Martha Stewart Living magazine, entitled "Pot Holders," it is stated that pot holders first began to be used between 1880 and 1920. "Patterns appeared frequently in the needlework magazines that proliferated during this period. By the thirties, crochet was the preferred medium. There were geometric designs, natural motifs like flowers and leaves, and amusing representational designs, like clothing, faces, and cats."
As part of my pot holder collection, I have a Star leaflet entitled "Pot Holders Book No. 32." It was produced by the American Thread Company. Inside are not only instructions for making 30 crocheted pot holders with American Thread mercerized cotton, but also recipes for many delicacies of the time such as Scotch Scones, Parsley Puffs and Egg Foo Young.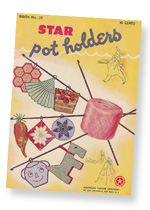 Identifying the age of pot holders can be facilitated by looking at instruction booklets published by thread companies. At the time, these companies provided the patterns in order to sell their thread products. In another booklet I own, "Pot Holders Book No. 196," published by The Spool Cotton Company in 1943, I can identify several pot holders in my collection.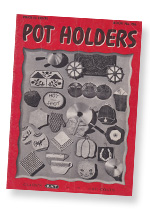 "The '50s were the heyday of the handmade pot holder," according to the Martha Stewart Living article. "Elaborate examples were crocheted for parties and holidays. Though fancy, they were often impractical: openwork designs left holes through which a cook could burn her hands." Maines says, "Clearly, needle workers were making pot holders for aesthetic reasons rather than for simple protection." It is still possible to find these endearing vintage designs today if you keep a sharp eye on the lookout.
On Pinterest, there are some fabulous images of vintage pot holders and you will see that often collectors enjoy building their collection around a theme.
Being so small, pot holders are quick and easy crochet projects, but don't let that deter you from respecting them. Quick to make is not necessarily easy, and they are great ways to practice skills and learn to read instructions. Do you have any vintage pot holders? If so, share some photos with me.