Fasten Off
Talking to designers is always fascinating! You met Gemma Owen in this newsletter. Each designer comes to the craft of crochet in her own way, and it's always interesting to learn how different folks approach designing -- what they like to make and what their favorite yarns are.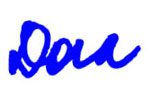 Dora Ohrenstein
coeditor, Talking Crochet newsletter
---
Dora Ohrenstein is a crochet designer and author. Her full-length books include Custom Crocheted Sweaters (2012), Creating Crochet Fabric (2010) and The New Tunisian Crochet (2013). Dora's chic and innovative fashion designs appear regularly in magazines. Dora is the founder and editor of Crochet Insider, www.crochetinsider.com, a great resource for crochet articles and interviews. She is also a professional singer and voice teacher at Wagner College in Staten Island.
---
Send feedback!
Fill out my easy feedback form and let me know your thoughts, questions, news or anything else you want to tell me about. You never know, I may feature it in an upcoming issue of Talking Crochet newsletter. Keep reading!