Crochet News,
Views & How-tos
Responding to First Responders
Last month, we talked about adding heartfelt items to your home. This month, we will focus on giving your heart away by crocheting projects and donating those items to first responders -- someone in the military or a hometown hero who deserves our respect and admiration. This loving gesture will convey our gratitude and express a sincere, "Thank you for your dedication" to all those who tirelessly serve the people in their communities. To assist everyone with this endeavor, we are excited to announce that Annie's is offering the Gratitude Scarf as a free pattern download to all our Talking Crochet update readers!
The Gratitude Scarf was originally published in the February 2018 issue of Crochet World magazine. This quick-to-stitch scarf was featured along with the suggestion to crochet and donate it to Operation Gratitude, an organization which distributes care packages to military men and women stationed all over the world. For a free download of the Gratitude Scarf, click here. To find out how you can get involved with this organization, which serves the needs of troops, first responders, veterans, recruit graduates, military families, wounded heroes and caregivers, please visit www.operationgratitude.com.
We can all think of people who have made a difference in our lives, such as the best friend who always knows exactly what to say, the medical or police person who arrived just at the right time, the encouraging teacher who changed a student's life, or the next-door neighbor who always lends a helping hand. These people may not have super powers, but they are certainly super people! So let's explore some crochet patterns that can be stitched and given as thank-you gifts to show our appreciation to our own special heroes and bring them inspiration and comfort.
This Bible Bags & Bookmarks pattern set is sure to provide special encouragement to every recipient! Made with size 10 crochet cotton thread, this set includes six cross bookmarks ranging in sizes from 3 3/4 x 5 1/2 inches to 4 1/2 x 7 1/4 inches, and matching inspirational-themed bags which range in sizes from 6 1/2 x 7 1/2 inches to 8 x 12 inches (not including handles). Slip in a Bible or other inspirational book and you will have a very thoughtful gift. We think one of these designs would also make a very comforting present for someone recuperating in a hospital or for a friend who needs extra emotional support.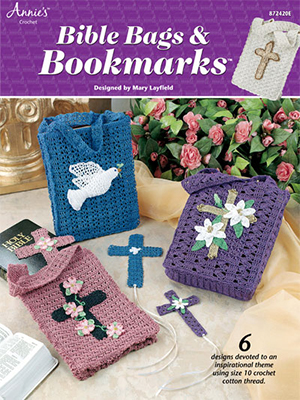 How about giving a fun, thoughtful gift to a first responder's child who wants to grow up to be just like Mommy or Daddy by making this Nursing Toy Amigurumi Set Crochet Pattern? This adorable stethoscope, thermometer and syringe pattern set can be made using medium weight yarns and has a skill level of beginner to intermediate. Besides being the perfect child's toy for a wannabe nurse or doctor, we wonder if this toy set might be helpful to calm a shy child who is fearful of a doctor as he or she plays and becomes familiar with these cute versions of medical tools. After all, did you ever think the words adorable and cute would be used to describe a syringe? Well, they certainly apply to each piece in this set!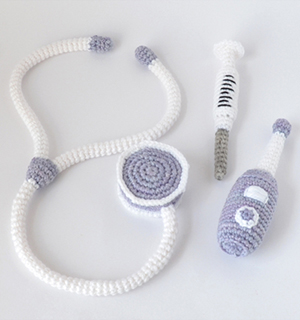 Want to showcase your passion for crochet by stitching face mask covers that are worn over medical masks? This ANNIE'S SIGNATURE DESIGNS: Crochet Face Mask Covers Pattern is the perfect solution to cover disposable rectangular-shaped and N-95 masks with pretty crochet and embroidery stitches! The rectangle cover which measures 7 inches long and 4 1/2 inches wide at the center has a pocket to insert a mask, and the N-95-style cover measures 9 inches long and 7 inches wide. An added bonus is the 4 3/4- x 1 1/2-inch extension band, which helps to eliminate discomfort behind the ears when wearing a mask for long periods of time.