Crochet News,
Views & How-tos
Give Your Home a Heart-y Makeover!
With Valentine's Day only weeks away, we've been "heart-monitoring" crochet patterns on AnniesCraftStore.com and Annie's e-PatternsCentral to find heart-themed designs to use or showcase in your home.
Our first suggestion is the Heartwarming Microwave Bowl Cozy Crochet Pattern. This clever work-in-the-round design consists of four hearts that form an extra-thick cozy and fits a standard 6 1/4-inch-diameter bowl. It can be used to help protect one's hands when removing reheated leftovers from the microwave. Why not make a different-color cozy for each family member to help eliminate any concerns regarding "whose soup is whose"?
Another useful kitchen item is the Heart Harmony Hot Pad Crochet Pattern, which is a lovely heart-filled 11-inch-square design inspired by Scandinavian folk art. Even though this project creates a beautiful hot pad when made with fingering-weight cotton yarn and a size E crochet hook, we think a larger version of this same pattern could be made with a larger crochet hook and thicker yarns to produce a spectacular Valentine's Day tabletop centerpiece!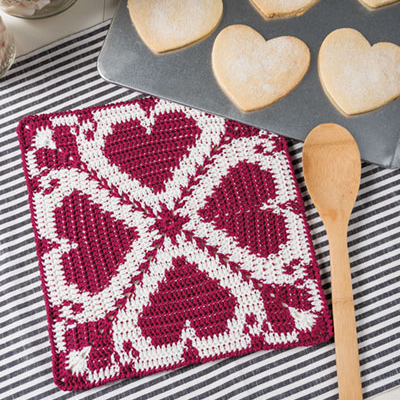 Want some heart-shaped patterns to create a romantic atmosphere for a wine-and-dine date night? The All You Need Is Love Table Set includes a generously sized place mat, napkin holder and wine-glass coaster. We love how the coaster fits and stays attached around the foot of the wine glass to protect any tabletop surfaces from being scratched by the pedestal base. We think the unique black-and-white edging technique really makes the red hearts pop with a retro feel, and so playing Beatles music softly in the background would be especially apropos. Yeah ... yeah ... yeah.