Letters From Our Readers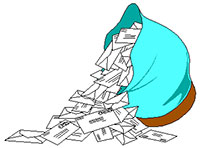 I received a lot of heartwarming emails from readers about the article in last month's issue that offered helpful suggestions for crocheters.
Sherry comments: "I love your newsletter; you cover so many interesting topics. Keep up the good work! I taught myself to crochet in the early 1960s and am most proud of the wedding dress I crocheted for my sister-in-law nearly 30 years ago. I will never forget the lace trim at the hem that was made with 790 stitches! I have taught many people to crochet over the years, and that's not bad for someone who taught herself from books. It would have been so much easier if I would have had the Internet back then."

Sarah comments: "Thank you for responding about crocheting with beads, including the link for YouTube instructions. I found this really easy to understand, enjoyable and clear to watch, and I very much enjoyed the related clips that were listed. It is always nice to learn new things and to expand my repertoire especially for making gifts."

Shelley comments: "Nice newsletter. I had just been thinking how nice it would be to practice some different post stitches when your article arrived. I wanted to do a sampler, and I'm very happy to start it here. Thank you for reading my mind!"
Send feedback!
Fill out my easy feedback form and let me know your thoughts, questions, news or anything else you want to tell me about. You never know, I may feature it in an upcoming issue of Talking Crochet newsletter. Keep reading!