Mother Nature Honors Crochet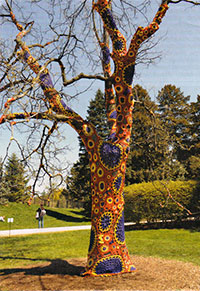 Lichen It by Carol Hummel
Installation artist Carol Hummel was one of 11 artists recently invited to participate in
Nature Unframed: Art at the Arboretum
at the Morton Arboretum in Lisle, Ill. Her work of art required the assistance of local crocheters to make the roughly 400 "lichens" that cover a tree. Leslie Goddard, program director at the Arboretum says, "They're not nailed on or physically attached with anything that penetrates the tree bark. They are just sewn together, wrapped on the tree like a sweater or a tree cozy." The motifs become sparse at the top of the tree, mimicking the way lichens grow on trees and of their symbiotic relationship with trees.
Reactions to Hummel's piece, Lichen It, vary. Goddard says, "We've had children hugging the tree, and we've also had people expressing concern because there's something distressing about seeing something manmade in such a natural setting."
Taking advantage of this renowned artist's visit, the Northern Illinois Chapter of CGOA organized an artist talk that featured Carol's colorful images and a discussion about her 20-year career as an artist who primarily uses crochet as her medium.