| | |
| --- | --- |
| Talking Crochet Newsletter | |
Fasten Off
In closing, I encourage you to choose some colorful yarns -- small bits from your stash will do -- and give the amigurumi technique a try. I'd love to see photos of anything you create. Simply Adorable Crochet is a great place to start for cuter than cute patterns. Speaking of cute -- I was so delighted, after writing about aprons in the June 18th, to come upon the Angel Food Bakery in my new neighborhood, which happens to be called Angel Food. Right there in the window was a delightful display of vintage aprons; and once inside, I enjoyed the owner's collection of antique kitchen tools, including a whole range of vintage Easy-Bake Ovens.
Hooks 'n' Happiness,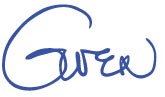 Gwen Blakley Kinsler
editor, Talking Crochet newsletter
---
Gwen Blakley Kinsler, founder of the Crochet Guild of America (CGOA), is a "Crock Star"© (Crochet + Rock = Crock) who toots her hook and sings the praises of crochet! A widely published author of articles on needlework and original design instructions, she is committed to the importance of sharing her passion for crochet with everyone she meets, especially the next generation. Co-author of two popular how-to books, Kids Can Do It Crocheting and Magical Misers' Purses: Crochet Patterns With Victorian Inspiration, Gwen is a certified Craft Yarn Council of America instructor and recipient of the International Diploma in Crochet Part One.
---
Send feedback!
Fill out my easy feedback form and let me know your thoughts, questions, news or anything else you want to tell me about. You never know, I may feature it in an upcoming issue of Talking Crochet newsletter. Keep reading!