| | |
| --- | --- |
| Talking Crochet Newsletter | |
Appreciating Our Forebears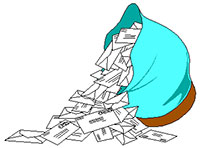 I received a lot of heartwarming emails from readers about the article in last month's newsletter that paid homage to our talented needle-arts forebears. Included here are three of those inspiring letters. Another reader wrote to share information on the origin of the name for armchair covers (antimacassars).
I love hearing from many readers and appreciate that you are enjoying this newsletter. Keep your comments coming and let me know what you want to read about in future issues in 2012.
Appreciating Our Forebears

Deni writes: "Thanks so much for your article on paying homage to our foremothers! It's rare that anyone these days seems to want anything to do with history, and those of us who love history and collect old things really appreciate it when someone else realizes how important the past really is. There is very little written on the history of certain crafts, so I love it whenever I see it! Thanks again for all you offer on your website and all your wonderful ideas for crocheting!"

Linda shares: "I read your article about crocheting patterns of the past, and it made me want to share with you my story. While cleaning out my garage this fall, I ran across an old afghan that my late mother had made some 35 years ago. Needless to say it was in pretty rough shape. It was an Irish lace patchwork pattern which she and her mother had both loved making. The yarn ends were pulled out and seven of the patches had holes or had become unraveled. Rather than throw it away, I washed it, deconstructed the tattered patches, repaired them, reconstructed and rewove all the ends. I then put a nice edging on it. She has been gone from us for 13 years, but I now have my mother's beautiful afghan to use on these cold winter nights. It is like having her arms wrapped around me and comforting me once again."

LuAnn writes: "Everything old is new again indeed! Many years ago I was participating in the NEW crocheted pearl-jewelry craze. I was a young mother and had gone to my precinct to vote. The line snaked up and down and around the halls of a neighborhood church. I had a long wait to vote, but was prepared with my crocheting. I had the pearls and thread in a 3-pound coffee can, and as the line moved, I slid the can along the floor and proceeded with my crocheting project. At one point in the line, I was across the aisle from two sisters -- little old ladies probably in their late 80s, and when they saw what I was doing, one sister said to the other, "I remember when our mother did that many years ago." Needless to say I was flabbergasted to hear that this NEW idea was not new at all."

Vivian writes: "I look forward to receiving [the newsletter]. My one complaint is that it's not long enough! I have introduced the ladies that meet every week to crochet to this online magazine. You will be pleased to know that a crochet club has been started at my daughter's school. Keep up the good work!"

Antimacassars

Valerie writes: "I thought I would add a footnote to the article in the last issue. Do you know why chair-back covers were called antimacassars? Men wore Macassar oil in their hair, and it would stain the furniture terribly! So saying that crochet was only worthy of such a use was truly an insult to the craft!"

Hdc Foundation Stitches

Alana writes: "If you have difficulty following the written directions, there are a number of very good videos on YouTube. That's how I learned to do it [and] I now use this for the foundation chain whenever I am making sweaters."

Likes Book Reviews

Ruth comments: "I love the book-review section you've started to include!"
Send feedback!
Fill out my easy feedback form and let me know your thoughts, questions, news or anything else you want to tell me about. You never know, I may feature it in an upcoming issue of Talking Crochet newsletter. Keep reading!