| | |
| --- | --- |
| Talking Crochet Newsletter | |
Crochet News,
Views & How-tos
The Iconic Heart: Symbol of Love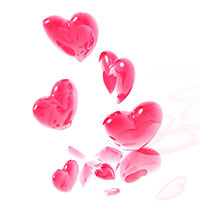 The iconic heart has been a symbol of love for decades, even centuries, and crocheters are no strangers to using this decorative and beautiful symbol in their delicate and practical crochet creations. As I seem to frequently point out, the versatility of crochet lends itself to creating beautiful hearts of all kinds.
Modeled after the beating human heart, the crafty versions can take on many adaptations -- round and fat, slim and asymmetrical -- but in any case, the meaning is the same no matter what the form: to show our love to those who are important in our lives! Once a year in February, we kick into gear and express not only love, but appreciation, friendship and other lighthearted sentiments on Valentine's Day.
There are innumerable examples of the heart shape in nature. Take a look at a few. Crocheters will be inspired to create their own adaptations of this symbol by learning more about the evolution of the heart's meaning as a symbol and how this holiday came to exist.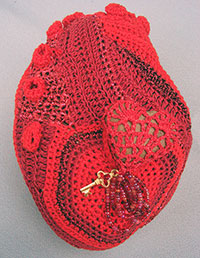 Enamored by the heart shape, the author created her award-winning sculpture, Heartrock Hotel, by covering two heart-shaped rocks in crochet.
Used endlessly in songs, as the theme in stories, and stitched into heirloom crochet pieces, the need to convey our heartfelt sentiments has persisted throughout time. According to Mary Emmerling in her book, American Country Hearts, "[The heart] has evolved from a symbol of power to an expression of love and friendship. Twenty thousand years ago, when Cro-Magnon man painted a heart on the wall of his cave it represented a goal: If he could capture the heart of a powerful enemy, then that power would become his. To the ancient Greeks and Egyptians, the soul resided in the heart, directing all actions, both corporeal and spiritual. It was not until the Middle Ages that the emblem of the heart came to represent love and romance. With Christianity on the rise throughout Europe, hearts began to appear in religious manuscripts and paintings, symbolizing man's love for God. Later, the heart came to express an idealized kind of love between man and woman.
"Courting couples were not the only ones to make use of the universally appealing heart motif. During the 18th and 19th centuries, the heart was used as a symbol of trade and professional associations in both Europe and America. Although artists in both England and Germany are credited with using the heart in a more modern context, it is in American folk art that the heart motif truly came into its own. Eighteenth century colonists decorated even the simplest household items with hearts. The giving of heart-shaped keepsakes was not reserved for Valentine's Day until the 1850s. Until then, they were given year-round as tokens of love and friendship. The giving of these valentines, so reminiscent of the courting customs practiced in England and Germany, simply evolved into the annual holiday we now call Valentine's Day.
"With the advent of the Industrial Revolution in America, it became possible to mass-produce hearts on Valentine's Day cards. Those handmade love tokens could not be mass-produced and today have all but died away. However, these one-of-a-kind expressions of feeling still exist. There are still ways to bring a sense of the warmth and caring a heart symbolizes into our lives."
Many crocheters collect hearts of all kinds; they may have inherited them or found them in flea markets. Today, patterns for creating hearts abound in crochet, and they bring the warmth that the heart symbolizes. They are just as special as those that are a century old because they have been made with love!