Crochet News,
Views & How-tos
Fun at the Estes Park Wool Market
Last June, I had the pleasure of hosting two close friends for a few days. Renee Rodgers of Crochet Renee and April Garwood of Banana Moon Studio came to visit so we could attend the Estes Park Wool Market. We spent months planning it. Every year it is the highlight of my spring.
We started our morning with a beautiful hour-long drive up the canyon to the picturesque town of Estes Park. It was a sunny day, and we were all excited to see what the market had to offer. We were also hoping to see some elk on the way, which we did! The elk are usually accommodating -- they love to hang out at the visitor center by the river.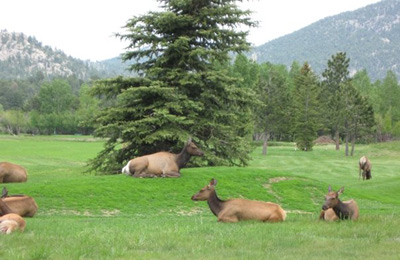 We met up with our dear friend Andee Graves of Mamas 2 Hands and set out to tour the market. There were stalls full of angora goats, sheep and alpaca. You could pet them and admire their beautiful wool. There is nothing like actually seeing where our yarn really comes from. These were well-tended and much-loved livestock! The event also featured judging on the quality of some sheared wool -- it's always fun to watch and learn what the experts are looking for. After the judging, some of the entrants were even willing to sell their raw fiber.
The next tent held beautiful angora rabbits. Their hair was several inches long! If my cats would cooperate I would own a few! Rabbits make great pets, and you gently shave them, or brush and gather the hair they shed, in order to spin it into yarn. I had to restrain myself from bringing one home.
The next stop was a very large building that had vendors from all over the country. This was by far my favorite building! There were yarns, rovings, books, hooks, needles, looms, spindles, spinning wheels -- so much to see and touch!
I managed to find some gorgeous, reasonably priced silk rovings for spinning. They were beautifully hand-dyed in colors I just couldn't resist! Renee found some really beautiful black and white wool rovings to purchase. She is a master spinner -- she had her rovings completely spun before she left my house just two days later, and on a spindle no less! It's nine months out, and I still have over half of mine left to spin.
Somehow the four of us became separated in the big building. It's easy to do -- there is just so much to look at. We spent hours taking it all in. When I finally bumped into April, she had bought a whole fleece! She planned to make her yarn from the very beginning. A fleece is what is actually shaved from the sheep. Usually, it's a little dirty, oily and a bit smelly. We were all very impressed at April's undertaking! It was a very deep gray color that will make gorgeous yarn. It's extremely labor intensive but also very rewarding, if you have the patience.
Andee spent her time looking for a weaving loom for her son. It's never too early to instill the love of fiber in our children. We watched for a while as the vendor demonstrated how to use a few of the different looms they were selling. His hands moved with swift proficiency to make a lovely tapestry of color.
After Andee found the loom she wanted, we took her over to the silk roving. I admit there was some hefty peer pressure going on! Andee didn't spin but was willing to learn. She purchased some silk and a spindle, and received a quick lesson from one of the vendors. I love that the vendors are always more than willing to share their knowledge of their products. Renee also offered some tips to Andee in the park a bit later.
We stopped to admire the beautiful spinning wheels the market had to offer. The simplicity of the spinner drafting the yarn as it was being pulled into the wheel was mesmerizing. I admit watching someone spin is a favorite part of the festival for me.
After we all finished browsing, we found my husband busy watching the herding dogs going through their runs. Their grace and agility were impressive, and they were fun to watch.
Happy with our purchases and more than a little worn out from all the walking, we stopped at a restaurant in Estes Park for a meal along the river. It was a lovely end to a fantastic afternoon spent with friends who love fiber as much as I do. Afterward, we wandered the streets taking in all the beautiful little shops. We stopped long enough to take this photo at the water wheel on the river. It's one of my favorite places to visit in Estes Park -- the sound of the river is so relaxing! Renee is holding her grandson's sock monkey -- she was making a photo journal about his adventures while traveling with "Mimi."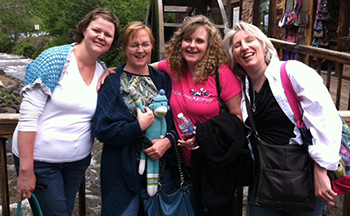 I can't wait for June! The next wool market is sure to be just as fun! If you've attended a wool market or festival, I would love to hear about it and see your photos too.