Crochet News,
Views & How-tos
Profile: Ellen Gormley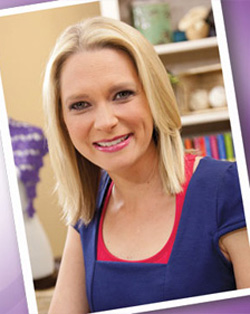 Ellen Gormley, design expert on the television show Knit and Crochet Now!, was recently named editor of Crochet! magazine. She replaces longtime editor Carol Alexander.
Ellen is the author four books and is at work on her fifth! She is particularly well-known for her stylish bead crochet and join-as-you-go crochet and motif designs. She is also the instructor for two of Annie's Online Classes, Learn to Crochet and Crocheting With Beads.
While earning her undergraduate degree, Ellen double-majored in Art (photography) and Socio-Psychology. She later earned an MA degree. Having been a crochet pattern designer for 10 years, Ellen says she spent a year learning the craft of tech editing. "I believe," she says, "that my varied experience in many areas brings all my interests together for undertaking this new aspect of my career. I am excited about the possibilities as I take on this new challenge."
"Carol Alexander has been a superb editor for Crochet! magazine," says Ellen. "She will continue to work with me on Crochet! as I learn. Carol remains the editor of Crochet World. I couldn't ask for a better, more knowledgeable teacher than Carol."
When asked if she will continue working on the Knit and Crochet Now! show, Ellen answered, "Yes! I love working on the show. It is great fun, has terrific energy and camaraderie. My favorite part of being on the show is getting to learn all the cool things that other designers are doing. It's a chance for me to learn the patterns we demonstrate on the show, and I get to see the innovative and interesting ways that designers do things that are different from my own typical methods. Getting dressed up in makeup and hair is quite fun too and not at all like my typical day. I'll keep with the show as long as I'm invited.
Ellen described what kind of crochet designs inspire her the most: "I LOVE seeing projects that are interesting and show me something that I haven't thought of or tried before but still make me say, 'I could DO that!' Pair that innovation with great yarn and color and it's a real winner."
A member of the Crochet Guild of America (CGOA) for 10 years, Ellen says her membership in the organization has been valuable and influential. "Being a member of CGOA absolutely opened my eyes to the possibilities of making crochet a career early on. Using the forums and attending in-person events introduced me to people who were critical in my learning and networking. Through the CGOA Mentor program, I was partnered with Tammy Hildebrand, who was an awesome sounding board and consultant who helped me navigate my first experiences with professional expectations, submissions, and the "ropes" of contract designing. The people I have met through crochet are my very best friends."
5 things you don't know about Ellen:


I can fold a fitted bed sheet like a pro.
I volunteer in the library at our kids' school.
I run for fun and exercise and LOVE to get the medals for participating in races. I keep track of my times like an accountant.
I'm the assistant coach of our daughter's volleyball team.
I appreciate beautiful gardens, but I can't even keep a house plant alive. It's a running joke in our family.
All of us here at Talking Crochet congratulate Ellen and send her our best wishes as she takes the helm of Crochet! -- the official magazine of CGOA!