| | |
| --- | --- |
| Talking Crochet Newsletter | |
Crochet News,
Views & How-tos
Male Artists Whose Preferred Medium Is Crochet
Not only do men crochet, but here is a capsule view on several artists who prefer to use crochet as their artistic medium. They are unique and talented, and crochet has brought them great success!
An adjunct associate professor at the School of the Art Institute of Chicago and a Franciscan friar, Jerry Bleem has been a practicing studio artist since 1984. In addition to exhibiting, he lectures, teaches internationally and writes about the intersection between art and religion.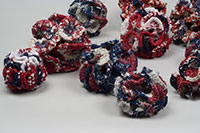 Decorative Nationalism by Jerry Bleem: 3-D forms each made with one flag.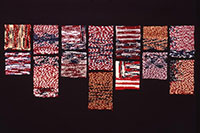 Seven Propositions on Nationalism and Their Corollaries by Jerry Bleem: 14 flags cut in seven different ways in continuous strips.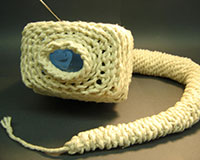 Untitled by Pate Conaway: cotton twine, television; 10 x 36 inches.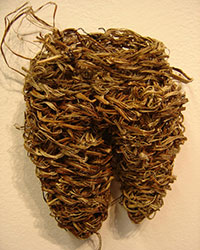 Untitled Vessel by Pate Conaway: mulberry; 4 x 3 inches.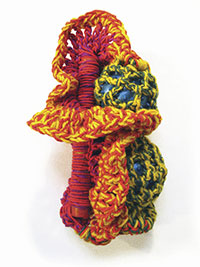 Distort 127 by Dale Roberts: crochet cotton, cardboard, rubber balls.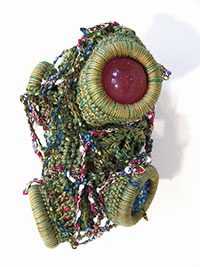 Distort 86 by Dale Roberts: crochet cotton, wooden rings, rubber balls.
Jerry has always been interested in the power of materials to carry information. "Materials possess a variety of histories and meanings," he explained about his use of American flags as material and crochet as his medium. Materials engage him, especially in their ability to signify. When he initially turned to crochet, he used ecclesial textiles that had been cut into strips, and then he turned to the flags he had been collecting for a long time. "I feel that these tattered, faded icons are charged objects," he said. "I have always been interested in the power of materials to carry information. In particular, the materials that are considered ordinary, especially our detritus, engage me. When the viewers' recognition of the material occurs, I hope they also see a manifestation of time."
In crochet, the building unit is the loop, the basic structure of the technique. "The loops locate or hold time for me. They show the time I have given the work, and the time I have spent thinking," Jerry explained. "I am interested in what we dispose of because it is revelatory about ourselves more so than what we keep. I am using tattered flags that should no longer be flown; they're not presentable. However, in that state they also carry the effects of having been displayed. Ironically, their being used to signify national allegiance has depreciated the fabric!"
Pate (pronounced "Paddy") Conaway brings a variety of disciplines and years of study to his crochet vessels. He has managed to morph various interests and skills into his current pursuit that fuses sculpture, installation and interactive performance. Only his Irish eyes outshine the vibrancy he achieves by crocheting an array of uncommon materials into vessels!
An artist, teacher and healthcare professional, Pate's sensibility as a nurturer is evident as he connects to his audience while he creates art in museums and hotel lobbies. A graduate of Chicago's Second City, his sculpture and performance are influenced by space and audience. Pate explained, "When I combine performance and crochet, I can't help but make a comparison: Crochet is the 'acting,' and the site becomes a 'stage.' I want to break down the myths about artists with my performances and make art accessible. I know that when I am crocheting in public, all eyes go to the 'performance' and the 'audience' is drawn in. I am fascinated by creative work that eludes easy definitions."
Pate believes that our culture is hungry to understand why art is important, and why things we see have meaning. "We want to be a part of it and put the work into context," he elaborated. I see my sculptures as metaphors for community -- those structures we weave in order to support our dreams and visions. My 'community' reminds me of my truth and wants me to succeed."
Preferring to use his fingers instead of a crochet hook, Pate has explored such diverse materials as twist ties and 18-gauge electrical copper wire. He divulged, "I rarely use a crochet hook and feel I have more control over the stitch with my fingers. Doing repetitive movements 'by hand' allows me to control the shape of the vessel, as well."
Dale Roberts started with four crocheted pieces which he calls "Distorts" and loved the tactile relationship of them to each other. From there, he went on to create a total of 10. "Now," he said, "I have created 140, and I have no plans to stop making them."
Originally from Point Leamington, Newfoundland, Canada, the influence of his childhood ambience had a lasting effect that Dale expresses through his art. He grew up in a town of 800 with a father who trapped and logged, and a mother who taught him to crochet at age 5. "Though it was a relatively simple existence," said Dale, "I found wonderful complexities in life and discovered my need to communicate them in a simple and direct way. Making art seemed to be the natural course to follow."
"Art is a way of being ... my way of being," said Dale. "It's who I am. The forms often vary; it's how I see and connect with the world." For him, the use of crochet is appealing because of the flexibility of the medium. He explained, "There is something about that single crochet stitch, and how it allows me to build and build, directly out in space. I also use double crochet stitches, and their simplicity gives me a line continuously working into space. The hook is a whimsical way to build form, and the motion of my hand with the stitches provides me with intimacy to my materials. Everything I do is about the tactile and its relationship to the surface."
To see more of these artists' works, visit their websites at:
JerryBleem.com
Pate Conaway -- HauteBiscuit.com
Dale Roberts -- Distorts.Blogspot.com