| | |
| --- | --- |
| Talking Crochet Newsletter | |
Crochet News,
Views & How-tos
Book Review: Exquisite Crochet Shawls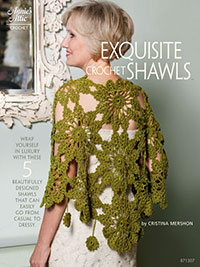 For virtually every month of the year, shawls are a must-have accessory. Whether it is a light cover-up for indecisive spring and fall days when the weather just can't make up its mind from one hour to the next, or the cold-weather months when extra covering makes snuggling by the fireplace even more enjoyable, shawls are a pleasure to make and a pleasure to wear.
Exquisite Crochet Shawls will delight many a crocheter with five designs in a pleasing range of styles and fibers. Each pattern is written at the intermediate level, suitable for intermediate and advanced crocheters.
Celtic Nature is made with size 3 crochet cotton, and the motifs are made with the join-as-you-go method. The Volvoreta Stole uses super fine-weight mohair yarn to create a lofty drape with no stress when it comes to gauge. Albarada is made with fine-weight cotton in the classic pineapple motif. Made in light worsted-weight cotton, Galician Sea adds elegance to any ensemble or occasion. Lastly, Art Deco uses sport-weight cotton and will work up relatively quickly.
Not only will these shawls add much excitement to any crocheters' wardrobe, but the many motifs given are like a reference source for future projects.